Congratulations! You must be engaged. It is here that the fun of planning your wedding officially begins.
Save the dates are a great way to give your wedding guests advance notice about the time and place of your wedding celebration. This way, they have plenty of time to plan for travel, accommodations, and time off work as needed. So how does a wedding save the date work? We're here to give you the whole rundown.
Before you send your save the dates (or post anything to social media about your big news), the first thing you'll want to do is to make sure those closest to you hear the news first. People's feelings can get hurt if they feel like you didn't want to personally share your news with them.
Once you've told your nearest and dearest about your wedding, it's time to send a save the date!
When to Send Save the Dates
Save the dates reminders should be sent to guests roughly six months before your wedding. However, if you are planning a destination wedding, or many of your guests are traveling from out of town, you will want to send them as early as possible. It sounds like a long time, but it's important to be courteous and conscious of the time it takes to plan for travel and time off work.
All you need to know before your save the dates go out is a location, a date, and a venue. Even if you still have a lot of planning to work out, these three things will give you a great idea of the rest of your planning timeline and inform important aspects like guest list size and budget.
Once you have your wedding location, date, and venue solidified, it's time to create a wedding save the date for your guests.
Save the Date Ideas and Design
The sky is the limit when it comes to Save the Date ideas. If you want to save time, stress and tears, we'd definitely recommend sending email save the dates. If you decide to go the snail mail route, popular choices are magnets, cards with a calendar date circled, a photo card or just a lovely, simple paper design.
First, pick a save the date design. Don't worry if you haven't finalized the overall decor of your celebration. The save the date can be simple and doesn't necessarily need to match the invitations. There are plenty of electronic design options that will make sending and organizing easy and, of course, affordable. If you've chosen to print save the date cards, you'll need to keep in mind cost of printing and stamps. Give yourself at least two weeks to address these cards as the process can be tedious.
Save the Date Wording
Once you've chosen your design, it's time to work out wedding save the date wording. Save the date wording is simple, but specific. Here's what you need to include:
"Save the Date!" – a call to action for what you want your guests to do!

Couple's names – you can go as formal (first and last names) or informal (first names only or nicknames) as you'd like

Date(s) for the celebration  – if you already know you're planning a one-afternoon, multi-day or week-long celebration, let your guests know so they can block off the relevant time

Location where the wedding will take place – this could be the actual venue or just the city/area if you haven't booked a venue yet

Wedding website URL – Your

wedding website

can be a great place to start sharing more details, like accommodation and travel options, and start to collect some tentative RSVPs. Your website is dynamic, so you can always add to and update it as your planning continues. If you're sending

email save the dates

, the card can link directly to your website so that guests reach it directly

At the bottom of the card, many couples add the note "invitation to follow" to inform guests that more information is on the way
If it's easier for you, here's our Save the Date Cheat Sheet!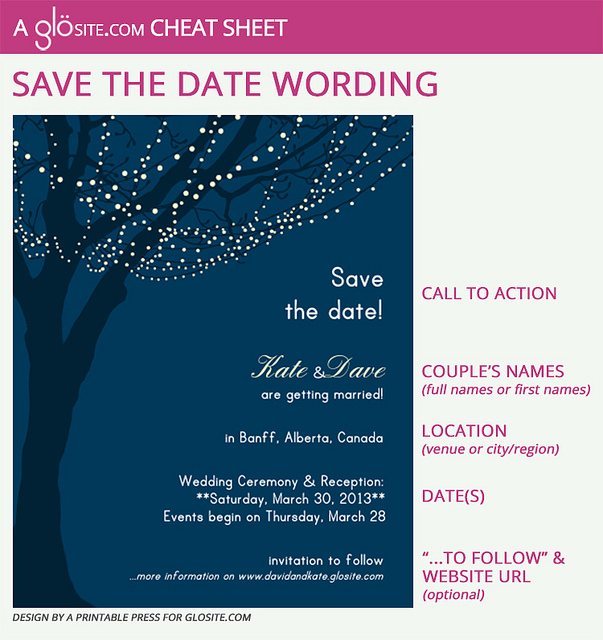 Who Should Receive Save the Dates
Once your save the dates have been designed, it's time to send it to your guests! A guest list is certainly not the easiest task to tackle. It's important to keep careful track of your guest list throughout the planning process. You can do this with a spreadsheet or use an online guest management tool. Sending email save the dates can be a great way to collect snail mail addresses, if you later want to send paper invitations. 
Glö offers guest list management that integrates with RSVPs and your wedding website and can save you tons of time. You can sign up for a free trial here. In any case, we think it's easiest to digitize this process.
Now that your save the date is handled, you can move on the invitations, RSVPs, and creating your wedding website!

More Save the Dates Resources:
Here are some of our additional posts if you want to dive deeper into planning and sending your Save the Dates: