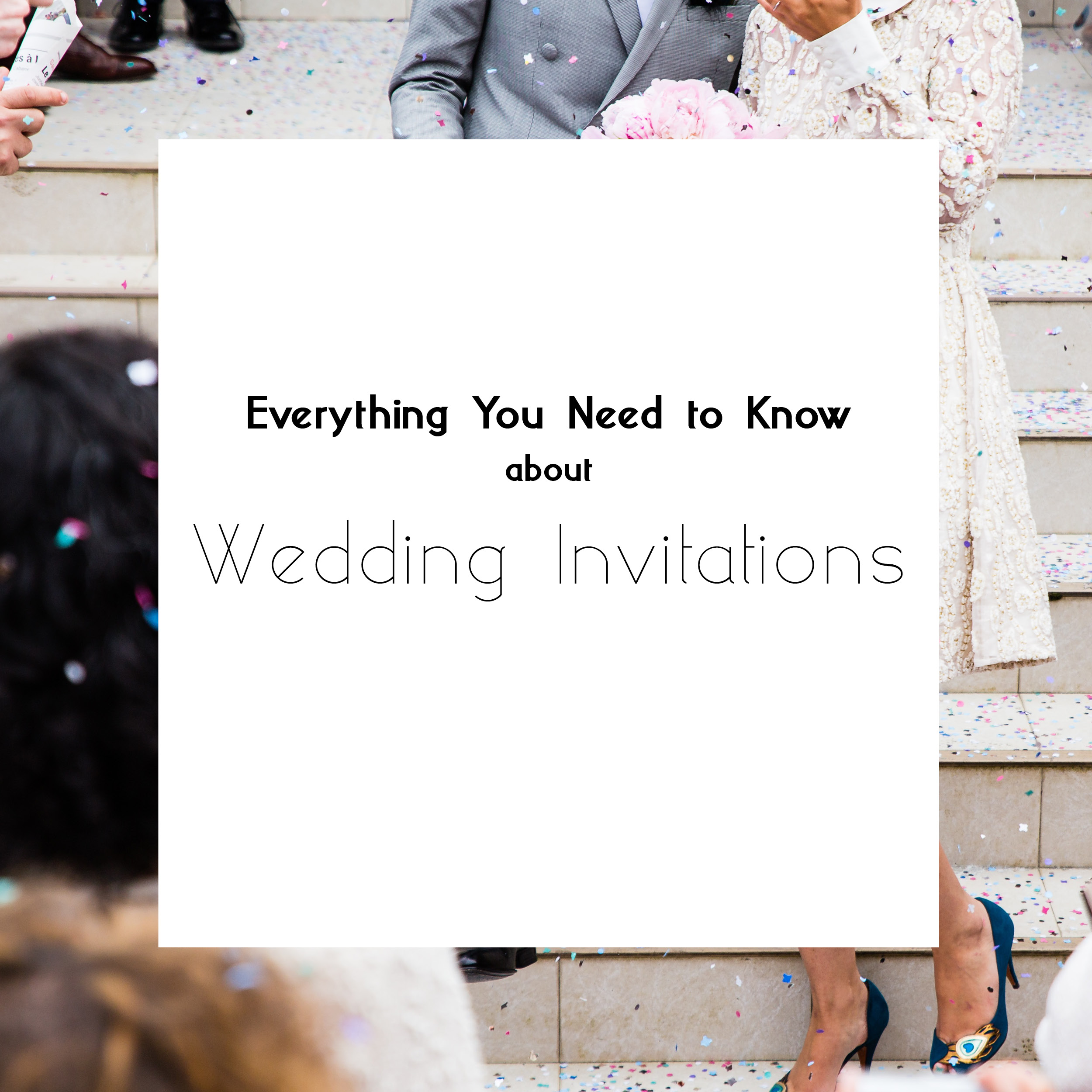 Photo by Sweet Ice Cream Photography
Once you've sent a Save the Date to your guests, it's time to take things one step farther. That's right: we're talking about wedding invitations and wedding invitation wording. A wedding invitation is more than just an invite: it sets the tone of your wedding, gives you the opportunity to control your final head count, and, most importantly, gets your wedding guests really excited for your big day!
Tackling this to-do item is no easy feat. Read on for our complete guide to sending the perfect wedding invitations.
When to send wedding invitations
You've likely sent out a Save the Date card to let guests know that your wedding is coming up. Whether you have or you haven't, it's important to be mindful that guests will want some time to plan travel, accommodations, and time off for your big day.
The general rule of thumb is to send wedding invitations 6-8 weeks before the wedding. If you are planning a destination wedding, try to get those invites out 3 months ahead of time so people will have plenty of time to plan.
Your wedding invitation design
The wedding invitation is a great way to clue people in about the theme, tone, and size of your celebration. If you are holding a more formal and intimate celebration, the invitation design might reflect this with your choice of colors, fonts, and stationery.
Before you think about what to include in your wedding invitation, you'll need to decide on paper or electronic wedding invites. Paper invitations are definitely more expensive to print and send; however, you may decide that they communicate the right aesthetic for your wedding. If you decide to use paper invitations and RSVPs, we still recommend pointing guests to a wedding website to keep guests up to date. Trust us–it's way easier than answering everyone's questions one-by-one.
There are many advantages to going paperless for your wedding invitations. In addition to being more cost effective, email wedding invitations make RSVPs easier to manage, are better for the environment, and can just as easily reflect your unique taste and personality. When you're ready to send out paperless invitations, there are hundreds of designs to choose from. The very best part? Email wedding invites can be integrated into your wedding website and RSVP count to make guest list management easier than you'd ever imagine.
Read more about sending email wedding invitations.
Wedding Invitation Wording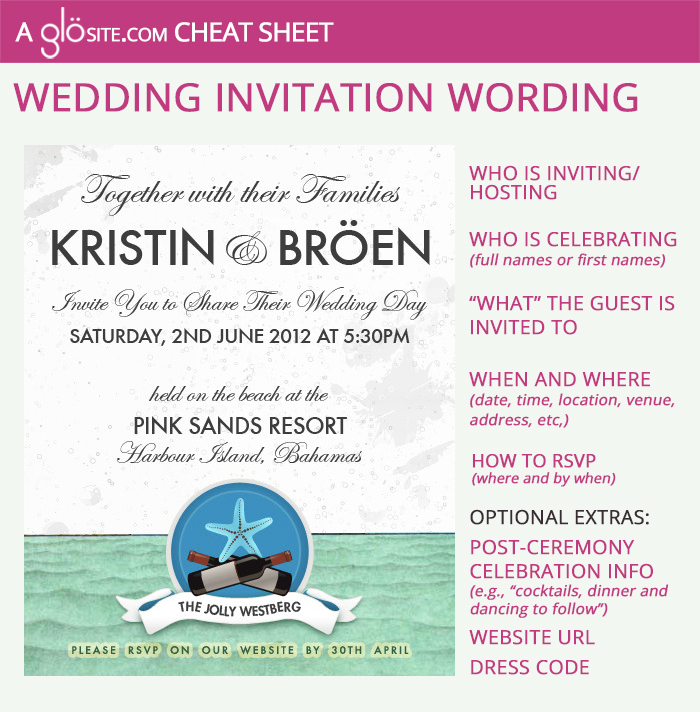 A wedding invitation gives you the opportunity to add personal touches and choose specific words that give guests clues about the tone of your event. No matter the style of your wedding, here are the elements that are important to include:
Who is inviting or hosting the celebration

– A host line exists to give due credit to those who have contributed finances or planning time to the wedding celebration. In the past, this was traditionally the bride's parents, but in the modern world, the host could be any combination of parents, step-parents, grandparents, or you as a couple. 

You can read more details about crafting the perfect host line.
What the guest is being invited to – 

 for example, "Celebrate the marriage of..," "As s/he weds," "Share in their happiness on the top of a mountain for Jane and Casey's wedding" – you get the idea.

Who is getting married / celebrating

– this is traditionally each person's first and last name, but using first names only can also set a friendly and intimate tone.

Where and when

-

Date(s), time(s), & location so that each guest knows exactly where to gather and what time to be there. This is a great opportunity to give subtle details about dress code so that you don't have to take up more space. For example: May 22, 2016 on Riviera Maya Beach, Cancún. With this wording, guests know to dress in the appropriate beach attire (and footwear).

How to RSVP

– be specific with guests about how (on your website? by email? by reply card?) they should RSVP and when you need to hear from them.
The following information could be helpful to include, but it isn't absolutely necessary.
Details about post ceremony celebrations

– This lets guests know what the day will hold e.g., "Reception to follow," or "Dinner and Dancing to follow," or "Please join us for cocktails after the ceremony" or "party to follow at Studio 18 at 7pm."

Wedding website URL

– Let guests know where to find more information and potentially RSVP to your celebration. Using a wedding website (http://glosite.com/wedding-website) makes updating guests and collecting RSVPs a piece of cake.

Dress code

- No one likes to be under (or uncomfortably) dressed! This information is particularly important if there are special considerations like dressing warmly for an outdoor ceremony or wearing shoes that are appropriate for sand/grass.
If you run out of space for these extra wedding invitation wording details, your wedding website is a great place for all of the spill-over. In addition to the above, your website may also contain a basic schedule of the day/weekend/week, FAQs (like whether or not children are invited), accommodation suggestions, and more information that guest will find helpful, useful and fun.
How to collect wedding invitation mailing addresses and email addresses
Collecting addresses (either electronic or physical ones) is a great way to enlist the help of your parents or wedding party. You might be one of those crazy organized people who keeps all of this information filed and alphabetized, but most of us are simply not that on top of things. Start by searching your email, phone contact listings, and your black book if you have it. Next, you can contact people by phone or have your right hand people help you gather addresses.
If you've already gotten started on your wedding website, then you should know about a handy feature that we offer that will help make collecting addresses a walk in the park!
How to address your wedding invitation envelopes
Traditionally, wedding invitations are addressed to a Mr. and Mrs. John Smith. But come on, now. It's 2016. It's time to adapt to the modern world.
Here are our favorite pointers for addressing those wedding invitations:
Single guest
Rule of Thumb is to use the prefix Ms. or Mr. (Miss for unmarried women under age 16), and spell out the guest's first and last name
Married Couples with the same last name
If the guest is married and has the same last name as their spouse, you can use the husband's full name, or spell out both spouses' first names. Traditionally, the man's name is listed first (but we all know times have changed!) For same-sex couples, you can list either spouse first or use alphabetical order if you can't decide.
Married Couples with different last names or un-married couples living together
For unmarried couples living together, or married couples with different last names, include both partners' first and last names with the appropriate prefixes. Traditionally, the man's name is listed first, but we say List the person you're closest with first. If you're similarly acquainted with both, list them in alphabetical order. Same goes for a same-sex couple. It's also tradition that married couples were listed on the same line on the envelope and unmarried couples were listed on separate lines – but we think that's rather silly. After all, we all know co-habiting couples that have out-lasted married ones.
Entire Households, including children living at home
You may choose to include the names of children in a family, if children are welcome at the celebration and will not receive their own invitations because they are living at home. You can also address the family as one unit if they are all invited.
Deep Dive: How To address wedding invitations
Once you've tackled your wedding invitations (you are so awesome, by the way), it's time to get those RSVPs reigned in. Read all about how to collect RSVPs, including sending gentle reminders and keeping everything organized.