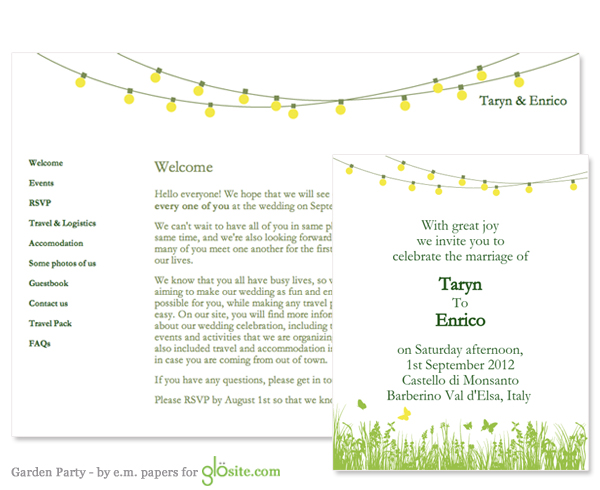 Garden Party paperless design available on Glösite from e.m.papers
Obviously, Glösite is really big on paperless weddings (so much that we built an entire business about them). If you've just started planning your wedding, you might be wondering the best approach to your invitations. Here are our favorite reasons to go paperless in 2016. We think you'll like them, too.  
Paperless weddings save time. In the time it takes to make a guest list, collect mailing addresses, choose a printing design and have it approved, send out a save the date, choose another print design and have it approved…You get the point. Dealing with printers and mailing out save the dates and/or invitations may adhere nicely with tradition, but it takes a whole heck of a lot of time. With a paperless wedding, all you have to do is choose a template from the comfort of your home, imput guest email addresses, and set up a simple, custom website for your guests. Badda bing.
Paperless weddings save waste.  There's no good reason in our modern age to contribute to the trash islands in the ocean (in addition to contributing to deforestation and water pollution that's linked to the production of paper). Of course, paper wedding invitations can serve as beautiful souvenirs for your guests (you know your grandmother would probably love to get an invite to your big day in the mail). If you're concerned about those who want the souvenir, you can always print 20 or so invites for those who will really want to save them as mementos and leave the rest to the e-vites. E.m.papers creates fabulous paperless designs that are printable as well! 
Paperless weddings make communication easier.  A paperless email wedding invitation allow you to get all of the vital information about your event directly to people's email. This not only saves the hassle of collecting physical addresses and returned mail, but also makes RSVPs simple and streamlined for your guests. Instead of getting 20 different questions from who-knows-how-many guests each week about what to wear, where to stay, and what the wedding itinerary will be, you can direct them to your handy dandy wedding website. This agile, real-time tool will allow you to spend less time communicating and more time going to work, cleaning your house, meeting for brunch, and doing all of the important things that still need to get done when you're planning your wedding.
Paperless weddings save money. On average, printed wedding invitations will cost anywhere from $300-$2000. That's without save the date notices or stamps or all of the time it takes to get them finalized and out the door. A monthly paperless wedding invitation service will save money that you can spend on a venue, a dress, or–even better–your honeymoon.
Paperless weddings save energy and precious sanity.  Because it's much easier to drink wine while building a website than it is to drink wine while keeping all of your addresses organized.