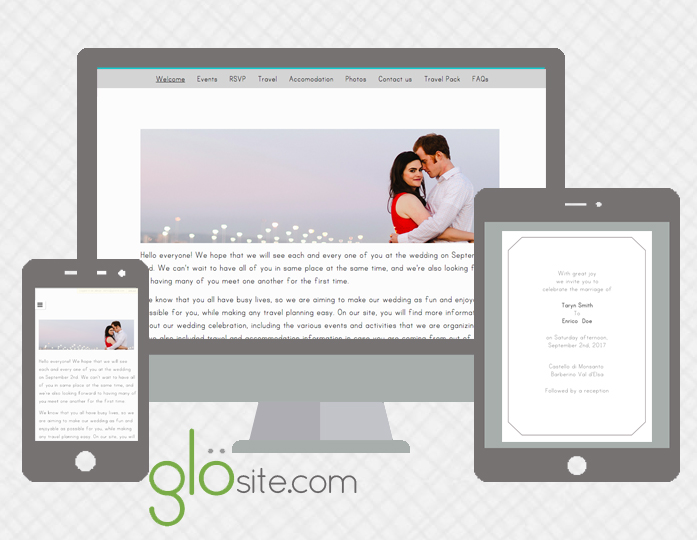 Wedding websites…what do you do first? If you're not a web developed or a techie in general, creating a wedding website might sound overwhelming. That's what we thought at first, too. But trust us. We're here to make this as painless as possible and help turn you into a web extraordinaire.
Where to Start
Visit the Glosite website page to get started. Here, you can choose from hundreds of designs in the design boutique, choose music, add images and couple stories, and track visits and RSVPs.
On your website dashboard, it's easy to add, delete, and edit pages that include welcome, contact info, photos, and your online guestbook!
Your dashboard also allows you to manage RSVPs, messages, and events and choose which of your guests has access to each of your pages. This is a great feature if you have different events going on for your wedding and avoids any hurt feelings.
What to include in your wedding website
Your wedding website is a great (and ultimately very easy) way to communicate with your wedding guests about everything that doesn't fit on a wedding invitation or RSVP card. Imagine a time when you would have communicate with each guest individually about accommodations, travel, directions and dress code. All we can say is thank goodness for the modern age.
Things to include on your website break down into "must haves" and "nice to haves." There's a lot to read on the subject if you're interested in more details, but for now, we've put things together in this handy list for you:
Must Haves
1) Salutations and Hello! This welcomes guests to your site and provides a friendly and personal touch.
2) The details. This is the who, what, where, and when. Most guests have already received a paper or electronic wedding invitation by now, but keeping these details fresh in their minds never hurts.
3) The schedule of events. This is a great place to get detailed regarding brunches, cocktail hours, walks through the vineyard, or times when you'll be around to visit with your guests.
4) Travel and venue information. It's easy as ever to add a Google Map to your wedding website. Here, you can also include information about the venue, nearby airports, and parking info for people who are driving.
5) Local accommodation and entertainment options. This will make guests feel comfortable and prepared no matter where you're holding your celebration. The more details the better here when considering out-of-towners.
6) Online RSVPs. If you've decided to use an online RSVP tracking service (i.e. Glosite), you can give guests the easy option of filling out their RSVP response right on your website!
7) Dress code. Because no one (seriously, no one) likes to be over or underdressed for any occasion at any time. If you're having an outdoor wedding or something particularly formal, then this is especially important.
8) FAQs. This is the catch all for any other important details that you'd like to let your guests know about including transportation options, local babysitting services, and more.
Nice-to-haves
1) Photos of the happy couple! Your loved ones love to look at these. Wouldn't you?
2) Your story. Details about your engagement, how you met, and more can keep more distant loved ones in the know and make them feel included in your relationship.
3) Registry details. This makes this super easy for your guests, and there are plenty of great apps and services for joint gifts these days.
You can find all of these details and more with our handy wedding website checklist!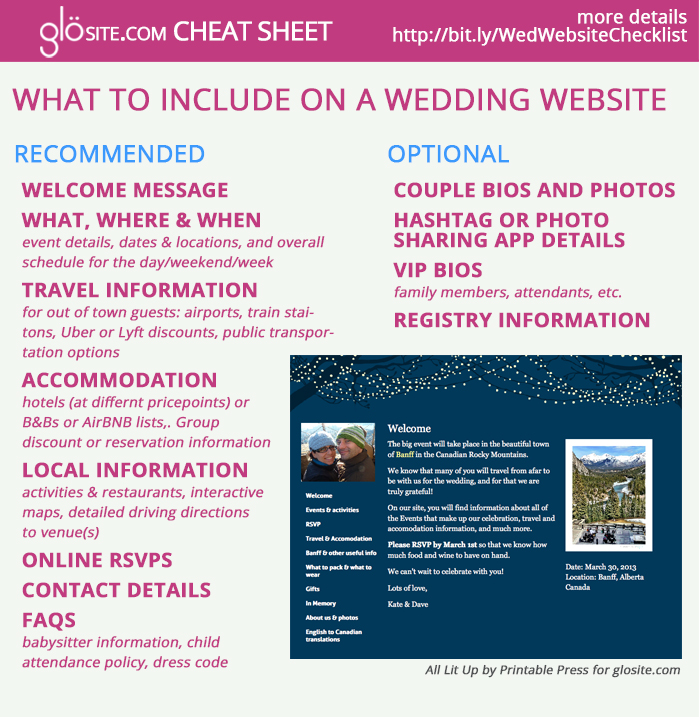 Bonus options
Here at Glosite, we love wedding tech. The reason is simple: tech saves time, money, and stress. When you use a wedding website, you can use all kinds of tools to make life easier. Everything from wedding widgets that allow you to easily add maps and wedding countdowns to your website to online wedding registry tools that give guests the option of chipping in for your honeymoon fund is suddenly at your fingertips.
Other hi-tech tools include:
How to Use Your Wedding Website
Wedding websites serve many purposes, the most important of which is clear and current communication with your guests. The information you put on your site keeps them included and prepared all while saving you valuable time. To let guests know about your site, the easiest thing to do is to share your URL on your wedding save the date card or in your wedding invitation.
Be careful about sharing your site on social media, as not everyone you know is likely to have been invited to your celebration. Communication is important, of course, but it is just as important to avoid any hurt feelings.
Glosite offers dozens of articles and tutorials that will help you get the most from your personalized wedding website.