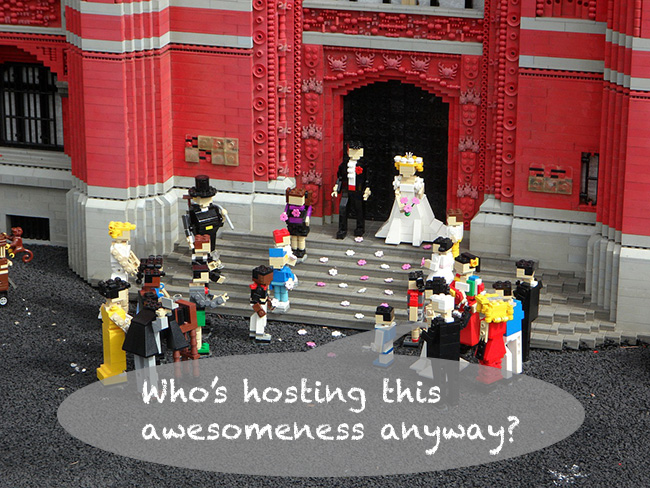 When it comes to crafting the perfect wedding invitation wording, creating a "host" section that pleases everyone can be tricky. The host line traditionally indicates who contributed to the celebration's planning and finances. Today, more and more couples are both planning and paying for a good chunk of their wedding celebration. Because of this, we are seeing more and more invitations where the couple is inviting their guests to join them for the wedding festivities. We also see the classy, but simple line:  "together with their families" (or an equivalent variation) as the host line. This allows couples to indicate that their families have been involved to some degree throughout the planning and execution phases, financially or otherwise.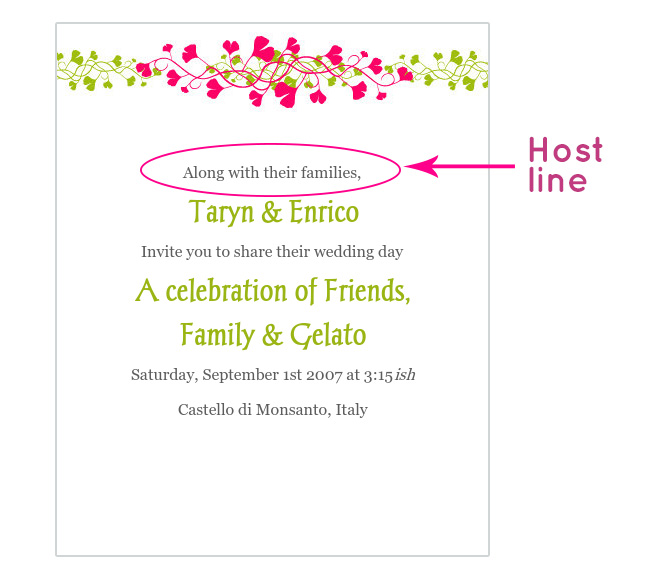 Taryn and Enrico's paperless Glӧvite to their wedding celebration, which had a strong focus on family and friends.
This catch-all phrase works for any arrangement in which both partners, plus their families, somehow contributed during in the process leading up to the wedding. Some couples might choose this option even if neither family gave them a cent towards wedding expenses, simply to emphasize the importance of family in their lives during a significant milestone. Many couples also find that if they try to get specific, traditional wedding invitation wording does not meet the needs of their family structures.
So, what are your options if you and your intended want wedding invitation wording that specifically honors the people in your lives beyond "together with their families"?
This is where it can get complicated. In some cases, only one family takes on the role of host. Traditionally, this used to be the bride's family by default. Thank goodness for changing norms! To convey, with your wedding invitation wording, that only one family is the host, open the invitation with the parents' surname and the father's first name if the couple is married or otherwise legally paired. For example:
"Mr. and Mrs. John Doe
Invite you to attend…"
Here's an example in which the hosting parents are two mothers who are married to each other but have different last names:
"Mrs. Jennifer Collier and Mrs. Christine Emich
Invite you to attend…"  
Note: Ms. is also acceptable for a married woman who has a different last name than her partner. Since you have multiple options, it's always a good idea to ask the hosts how they would like their names to appear on the invitations.
If the parents are divorced or separated, include both parents' full names:
"Mrs. Jane Doe and Mr. John Doe"
Invite you to attend…
Ms. is also acceptable here.
What if the host parents are divorced and remarried? If this is the case, list the contributing families by first and last name, beginning with the mother of the bride (if applicable).
If a parent has passed away, you can include the surviving parent's name first. For example:
"Mrs. Jane Doe and the late Alex Doe
Invite you to attend…"
Here's another option:
"Mrs. Jane Doe
Invites you to celebrate the marriage of
Kristen Alicia, daughter of Alex Doe, and Mr. Cody Farley"
It's traditional to list the bride first on the invitation, using only her first and middle name, followed by the groom's name. In the case of two brides or two grooms, you can list your names in alphabetical order. Many modern couples choose to break this tradition by using the same format for both names of the couple to be married. After all, not everyone changes their name after marriage!
Remember, this process can be as simple or as complicated as you want it to be. Show your creativity and break tradition, if that's what suits you and your beloved, but don't forget to honor the people who are helping you make the day happen! You can see more about wedding invitation how-to's in our complete wedding invitation guide, or read on below!
Read Part 1 of this miniseries, which covers Save the Dates.
Read Part 2 of this miniseries, which covers RSVP wording.
Read Part 3 of this miniseries, which covers wedding invitations.
Read Part 4 of this miniseries, which covers addressing invitations.