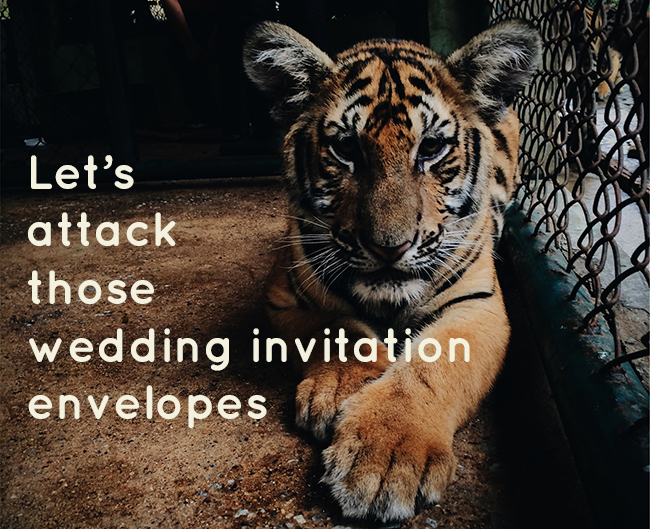 This is the fourth in a multi-part series. We hope you find the advice in this series helpful as you navigate the world of Save the Date notices, wedding invitations, and wedding websites!
Time truly seems fly as your big day approaches and event plans take shape. Now that you've chosen an invitation design, crafted the perfect wedding invitation wording, and finalized your guestlist, it's time to send those invites out to guests!
Figuring out what to write on the front of each envelope and then sitting down to write it can be a time-consuming and even complicated process, so take a deep breath, grab some wine and dive in! (Hint, sending online wedding invitations will significantly decrease the time needed to address, lick and stamp all of those envelopes!)
Even if you plan to break some (or alot of) rules with your wedding, knowing how to address wedding invitations will help you rule-break with intention.  The traditional etiquette of addressing wedding invitations requires knowing each guest's relationship status. Are they married? Single? Living with a partner but not married? Divorced? Widowed? Other nuances include whether a couple shares a last name or not and whether anyone on the invite has a specific professional title (we'll do a separate post for those inviting members of a royal family…) Are you exhausted yet?
While the possibilities seem almost endless, we've tried to break things down into bite-sized pieces.
Single guest
Rule of Thumb is to use the prefix Ms. or Mr. (Miss for unmarried women under age 16), and spell out the guest's first and last name
Ms. Jane Smith
Miss Jane Smith – if guest is under 16
Jane
Single Guest invited with a +1
Mr. John Smith and Guest
Jane and Gues
Married Couples with the same last name
If the guest is married and has the same last name as their spouse, you can use the husband's full name, or spell out both spouses' first names. Traditionally, the man's name is listed first (but we all know times have changed!) For same-sex couples, you can list either spouse first or use alphabetical order if you can't decide.
Mr. and Mrs. John Smith
Mr. John and Ms. Jane Smith
Ms. Sarah and Ms. Jane Smith-Doe
Jane and John Smith
Sarah and Jane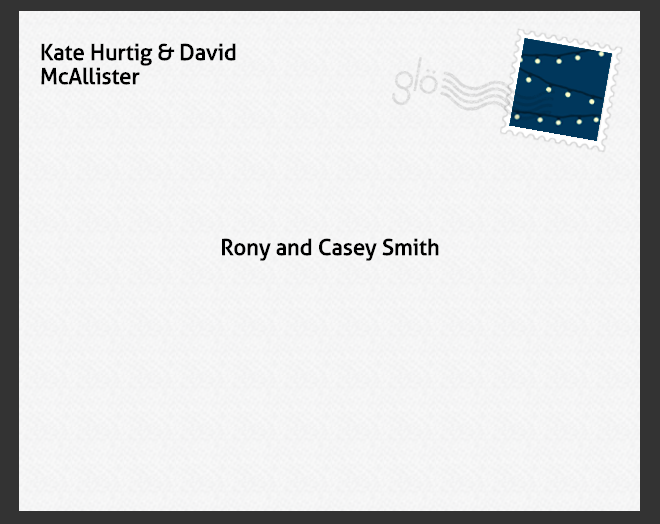 Kate and David's paperless Glӧvite outer "envelope," sent to a married couple that shares a last name, with prefixes omitted and both names spelled out. Open the envelope!

Married Couples with different last names or un-married couples living together

For unmarried couples living together, or married couples with different last names, include both partners' first and last names with the appropriate prefixes. Traditionally, the man's name is listed first, but we say List the person you're closest with first. If you're similarly acquainted with both, list them in alphabetical order. Same goes for a same-sex couple. It's also tradition that, married couples were listed on the same line on the envelope and unmarried couples were listed on separate lines – but we think that's rather silly. After all, we all know co-habiting couples that have out-lasted married ones.
Mr. John Doe and Ms. Jane Smith
Mr. John Doe and Ms. Jane Smith-Doe
Mr. Mark Turner and Mr. Christian Smith
Jane and John
Mark and Christian
Entire Households, including children living at home
You may choose to include the names of children in a family, if children are welcome at the celebration and will not receive their own invitations because they are living at home. You can also address the family as one unit if they are all invited.
The Smiths
Mr. John Smith and Family
John Smith and Family
Mr. John Smith, Ms. Jane Doe and Family
Mr. John Smith and Miss Alicia Smith (a father and daughter)
Ms. Sarah and Masters Evan and Stevie Smith (a mother and her two sons)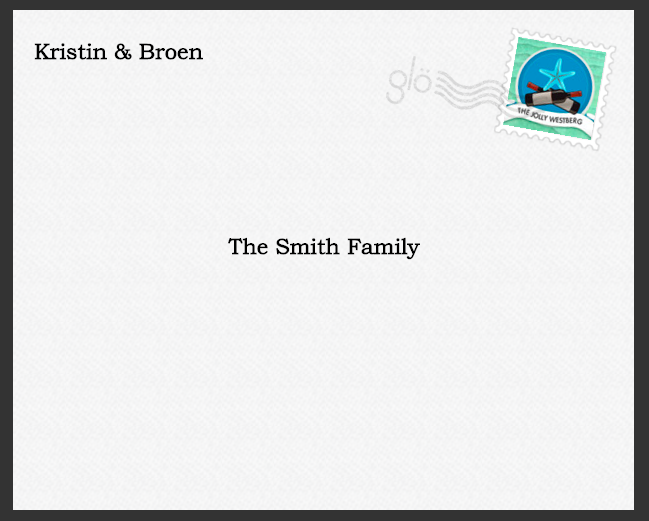 Above: Kristin and Broen's paperless Glӧvite outer "envelope," inviting a family. Open the envelope!
Divorced Female
If your female guest is divorced, it depends on the name that she uses socially. Some women keep their married names and others do not, so it's always best to check.
Ms. Jane Smith
Widowed female
When addressing an invitation to a widowed guest you can use her husband's name or her own first name.  Again, this is down to personal preference, so you might want to ask.
Ms. Jane Doe
Ms. John Doe
Professional titles
Several distinguished titles warrant acknowledgement when addressing a formal wedding invitation. If any of your guests are doctors (Dr.), judges (The Honorable…), commissioned officers (Captain), or retired commissioned officers (Colonel), include the appropriate title on the envelope in place of a social prefix.
The Honorable John Smith and Mrs. Jane Smith (he is a judge)
Traditionally, the man's name is listed first when addressing an invitation to a heterosexual couple. However, if only one spouse in a married couple has a title, place that person's name first on the envelope, regardless of gender.
Doctor Jane Doe and Mr. John Smith (She is a doctor and uses her maiden name professionally and socially)
Doctor Jane and Mr. John Smith (She is a doctor and uses her married name socially)
When both spouses have titles, include both individuals' names and titles. Some titles (in the cases of doctors and commissioned officers) can be combined if both individuals in a couple share the same title.
Doctors Jane and Sarah Smith
The Doctors Smith
So many details! But addressing your invitations correctly will be worth the effort.
If you're going all the way and sending paper invitations with both outer and inner envelopes, a rule of thumb is that the outer envelope is the more formal of the two. That means the inner envelope can omit first names or titles. You can also just use first names the guests are close friends or family members.
If you'd like to save time, postage, money, and trees, take a look at our gorgeous paperless invites. You can also collect and track RSVPs hassle-free using your customizable Wedding Website!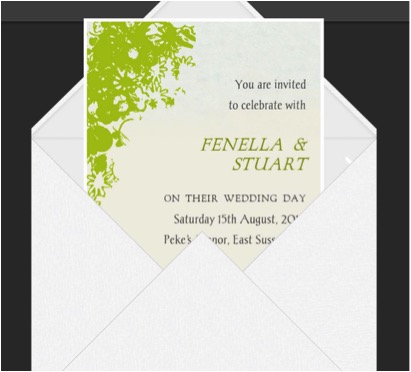 Above: Fenella and Stuart's paperless invitation.
Read Part 1 of this miniseries, which covers Save the Dates.
Read Part 2 of this miniseries, which covers RSVP wording.
Read Part 3 of this miniseries, which covers wedding invitations.
Read Part 5 of this miniseries, which covers the invitation "host line."
Or, you can visit our complete guide to wedding invitations!