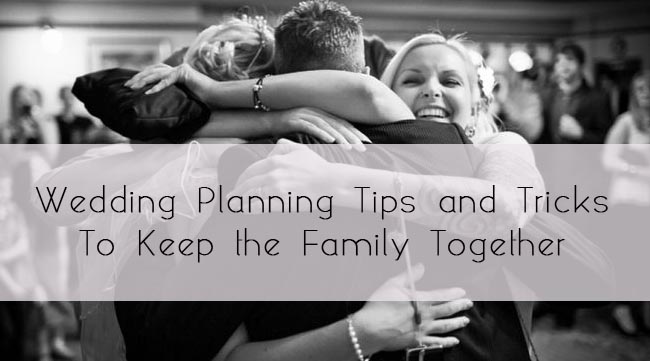 Wedding planing is stressful. Wedding planning during the holiday season? Well, let's just say that it can reach epic crazy levels. With engagement season almost upon us, we thought we'd share some helpful tips on some ways to kick off your wedding planning without rocking the boat with family and friends.
Invite different people to different events with no hurt feelings
These days, the average wedding is three days long with four events, and the reality is that not everyone is invited to all of the events you are organizing. For instance, the rehearsal dinner typically has a smaller guest list than the ceremony and reception. In the UK, it is common for the ceremony and dinner to have a smaller guest list and for a larger guest list to attend a post-dinner celebration party. But inviting guests to different events with style can be tricky. On your Glosite wedding website, all of your guests will view the same website pages, but we give you to the option to specify who is on the guest list for each of your events. When each guest views your Events and RSVPs pages, they will see a customized view with details about only the events they are invited to. This prevents guests from having any you-are-not-invited-to-this-event blues.
Paper vs. Email Wedding Invitations
So you've decided that email wedding invitations are the way to go. After all, they are streamlined, cost-effective, eco-friendly and save a ton of time. But, what if Great Aunt Mertle just won't hear of it. She wants a paper invitation to press between the pages of her scrapbook. Don't worry – we've got your covered. Each of the designs in our wedding invitation and wedding website design boutique has a matching paper design that can be ordered. This way you can send a handful of paper invitations to older relatives or mix and match an email save the date with paper invitations for all of your guests.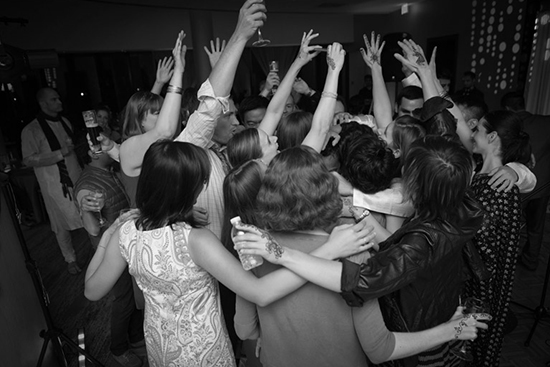 Modern Wedding Sangeet photographed by Binita Patel
Addressing Save the Date and Wedding Invitation Envelopes
Addressing envelopes is tricky business. How an envelope is addressed indicates exactly who you are inviting to the wedding ("The Smith Family" vs. "Mr. John and Ms. Jane Smith") and also sets the tone for how formal or informal your celebration will be ("Mr. Mark and Mr. Christian Jones-Harper" vs. "Mark and Christian.") To provide some tips, we've written the ultimate guide to addressing wedding invitation envelopes.
Writing the Wedding Invitation
Once you've figured out the envelopes, you have to give time and thought to what will actually go on the invitation. We hear from couples that one of the most challenging parts is determining what will go on the invitation "Host" line – this is the part that starts with so-and-so invite you to enjoy the wedding day of… Traditionally, the bride's parents paid for, and thus hosted, the wedding. But what if you are paying for your own wedding? Or there are two brides (or no brides?) Or everyone's parents are chipping in, along with Great Aunt Mertle (now that she's receiving her paper invitation.) Messy, right? To help weed through the murkiness, we've written a two guides to cover exactly what to say on a wedding invitation and how to nail that wedding invitation host line.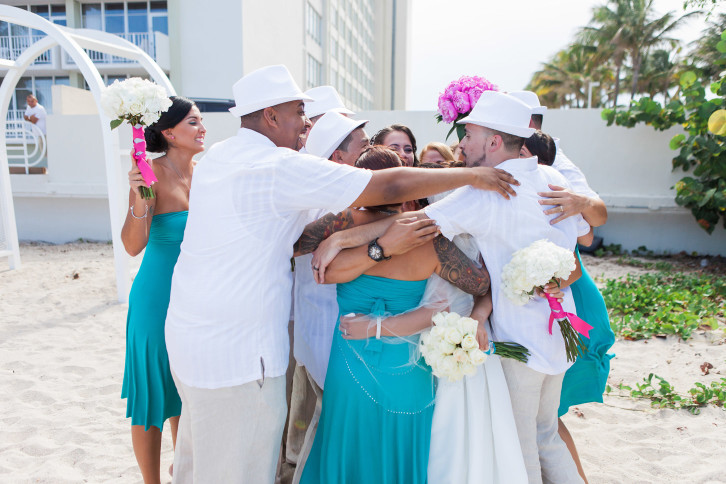 Photograph by Alan Phillip, featured in 2Brides 2Be
Addressing "cultural" differences
It's no secret that a marriage is a blending of different families – and with this comes a blending of cultures, personalities, and traditions. By cultures, we are talking about more than nationality, regional, religious, and lifestyle identities to include any different ideas of "the way we do things around here." You know what we mean.
Blending cultures can be truly amazing and fun, but sometimes it requires a little bit of explanation or background detail so that one person knows where the other person or tradition is coming from. This is perfect content to add to the FAQ or special pages of your wedding website. Use this space to explain what guests might experience at your wedding. It might include foods, outfits, traditions, language, music or anything else that could be unfamiliar to them. Providing some information about who, what, where and why will prevent any guests from feeling out of place and give them something to look forward to experiencing at your celebration.
Allow guests to edit names and emails
One of the most awkward situations is having a guest show up to your wedding and not seeing their name spelled correctly on the seating chart. Or maybe you sent an email update a week before the wedding advising guests about a dress-code change, but someone didn't receive the email because it went to an inbox that they rarely check. No one likes to feel left out, unloved or awkward. On your Glosite, you can enable a feature that allows your guests to edit names and email addresses for themselves, their household members, and any +1s. Use this feature – you'll be glad you did!
Do you have other tips to share? Be sure to let us know in the comments. We wish you happy and peaceful planning.