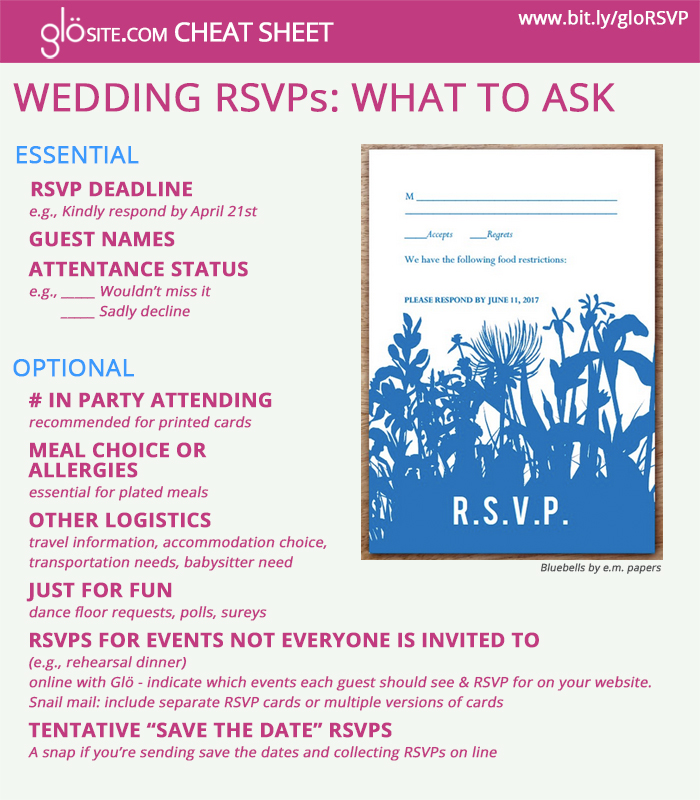 This is the second in a multi-part series. We hope you find the advice in this series helpful as you navigate the world of save the date notices, wedding invitations, wedding RSVPs and wedding websites!
Wedding invitation wording and RSVP wording are certainly steeped in tradition, but they have evolved into a flexible art, much like wedding Save the Dates. How you phrase your invitation and RSVP questions should convey the same amount of personality as the wedding invitation design and also set the tone for your guests. If you're mailing printed invitations, response cards are a separate inclusion, along with a pre-addressed, stamped envelope. To save time, money, and make life easier for guests, many modern couples are opting for email wedding invitations and collecting wedding RSVPs online. Whether you are going the traditional snail mail route or embracing a paperless approach, there are several things that you'll definitely need to ask.
What to ask
As a minimum, your RSVP questions should cover the following:
RSVP response Deadline

: Nudge guests to RSVP by a certain date to give yourself time for final catering numbers and other guest-related tasks.
Guest's name: If you're collecting online RSVPs through Glo, we'll keep track of this for you. However, if you're sending printed cards, don't forget to ask the guest to give their name so that you know who the response belongs to when it's thrown into the pile. One tip is to number your response cards on the back in light pencil and track it on a spreadsheet. This will ensure you know who is RSVPing if one returns without a name.
Attendance status: Guests will need to select whether they are attending or will be unable to make it.
Total # attending: If you're requesting a response via paper reply cards or certain online services, be sure to include a spot for the number of guests attending and an area to write in the name of each guest. If you're using Glo for your RSVPs, we'll collect a reply for each guest that is invited and tally those responses for you.
Meal preferences (optional):  This is a must for those serving plated dinners. If there will be a variety of food on offer, you may want to ask about guests' food allergies or other dietary preferences. If children are attending – you might want guests to specify the number of adult vs. kiddo meals.
Additional logistical questions (optional): As modern weddings have grown in length and number of activities (today's average wedding is 3 days long with 4 events!), the amount of RSVP information needed to plan the event has also expanded. This is one area where online wedding RSVPs can make your life much simpler. Logistics questions may include things like: arrival/departure dates, hotel/accommodation choice, the need for transportation to/from events, or the need for a babysitter.
Questions for fun (optional): If you're hoping your guests will feel included in your celebration, there's no better way than asking them to contribute ideas. Your RSVPs can include fun questions like dance floor requests, which will ensure everyone hears something that will get them onto the floor, or other polls and surveys
RSVPs for events not everyone is invited to (e.g., Rehearsal dinner): If you have any events with a smaller guestlist – keep this in mind as you are designing your RSVPs. If you are using Glo to collect online RSVPs, simply tell us which guests should be able to see details for and RSVP to each event. If you are sending printed cards, consider printing separate cards for the different events or creating different versions featuring the relevant events. All of these options will prevent hurt feelings!
Tentative "Save the Date" RSVP (optional):  Knowing attendance numbers early on in your planning can be immensely helpful. Online RSVPs provide an easy option to ask for a preliminary or tentative RSVP response around the time you send the Save the Dates. If you are sending email Save the Dates with Glö, we would suggest using our yes/no/maybe attendance question option, which will ask guests for a preliminary RSVP response. Guests will choose from 5 possible responses options that give you an idea of how certain they are they that will or won't be able to attend. Based on each guest's response, we'll calculate an estimated attendance number for you.

Online wedding RSVPs can save time, stress and tears
Tracking RSVP responses
As replies come in, you'll need to track who has and has not responded. With mailed cards, you'll likely need a spreadsheet to keep track of everyone's replies. As the deadline approaches, be sure to leave enough time to call or email anyone who has not submitted an RSVP.
If you're using Glo to collect your RSVPs online, we'll keep track of the responses and tally the results for you. As the RSVP deadline approaches, you can use the "Messages" section to quickly send email reminders to anyone who has not responded.
See some of our other tips on how to collect and track your RSVPs without losing your mind.
Wording and Tone
Just like wedding styles, response card wording can run the gamut from formal to casual to humorous. There isn't "right" or "wrong" wording, and it is possible to infuse RSVPs with personality that resonates with the theme of your wedding.
Example RSVP deadline: You can get clever with the language, but the RSVP deadline is typically worded a few common ways:
     The favor of reply is requested by DATE
     Kindly reply by DATE
     Please reply on or before DATE
The RSVP reply options can reflect the kind of affair you're planning. For more formal weddings or those with traditional elements, guests can indicate their attendance in one of the following ways:
     Accept with pleasure, Decline with regret
     Gladly accept, Sadly decline
     Delighted to attend, Regretfully cannot attend
But there is no reason you can't be creative and add some personal flair with personalized or unusual RSVP wording.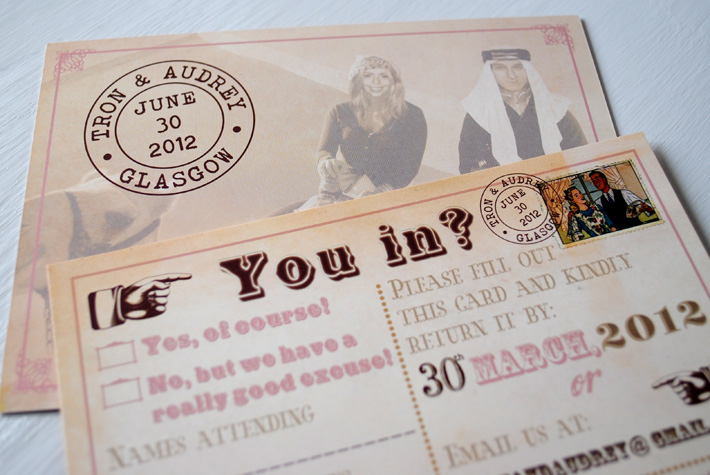 RSVP card designed by Marty McColgan
We'll talk more about specific phrasing and word options, including what to list on your wedding invitation, in part three of this series. You can also check out our complete guide to wedding RSVPs here. Questions? Please add a comment below.
Read Part 1 of this miniseries, which covers Save the Dates.
Read Part 3 of this miniseries, which covers wedding invitations.
Read Part 4 of this miniseries, which covers addressing invitations.
Read Part 5 of this miniseries, which covers the invitation "host line."