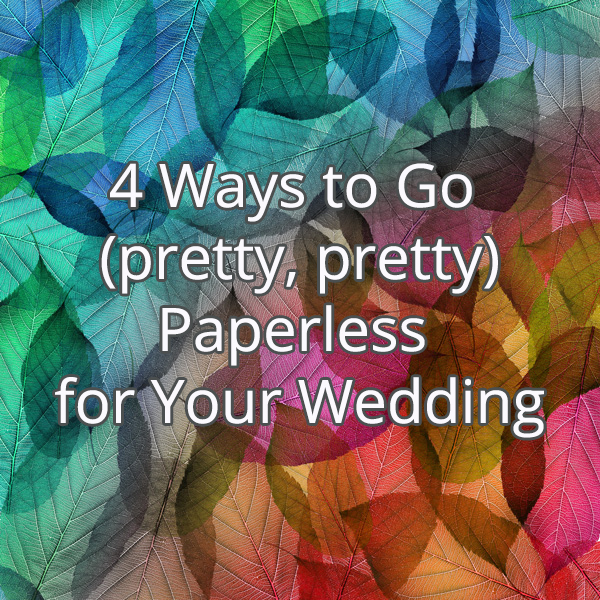 A wedding should be a day that every couple about to say "I do" anticipates with hope and happiness, and remembers fondly forever.
As anyone with experience will tell you, though, planning the perfect celebration for this special day is hardly a piece of fondant cake. Even thinking about the preparation, logistics, and yes—finances of hosting a dream wedding has been known to make even the most savvy party hosts reach for a glass of wine.
Glöbies will agree that one of the best ways to beat stress and still have the wedding of your dreams is to cut snail mail out of the picture. Honoring tradition is fine, but why else would anyone spend countless hours (and hundreds of dollars) creating, addressing, mailing, and waiting for 300 postal correspondences when equally elegant paperless alternatives are available?
If you are new to wedding planning and are not yet familiar with the range of possibilities for managing logistics, here are a few ways that you can de-stress your planning process by going paperless:
Save-The-Dates: Elegant save the date emails are a sophisticated way to announce your engagement without having to address and mail hundreds of envelopes. You can save some trees by reaching out to your potential wedding guests with beautiful, customized Save-the-Dates that look like paper.
Invitations: paperless wedding invitations are available in a broad range of styles and themes so that you can let invitees know what to expect when it comes to the atmosphere and vibe of your celebration. Customize, design, and send your formal invitations without waiting on the postal system.
RSVPs: Few things about creating your guest list are more anxiety-inducing than waiting on tardy RSVPs! And what if one gets lost in the mail? Online wedding RSVPs allow you to see your guests' responses in real-time, not two weeks after they've dropped their RSVP cards in the mail. Of course, it's easier for your guests to RSVP online, too.
Wedding Website: What if you could review and share every logistical detail of your wedding in one place, throughout all stages of the planning process, and design that place to reflect your personality as a couple and the tone of your celebration? A wedding website allows you to do just that. Track RSVP responses, see which guests have visited your site, and communicate valuable information to your guests when they need it most without a single phone call.
We hope that you're feeling inspired!
Read Part 1 of this miniseries, which covers Save the Dates.
Read Part 2 of this miniseries, which covers RSVP wording.
Read Part 3 of this miniseries, which covers wedding invitation wording.
Read Part 4 of this miniseries, which covers addressing wedding invitation envelopes.
Read Part 5 of this miniseries, which covers wedding invitation wording for the host line.