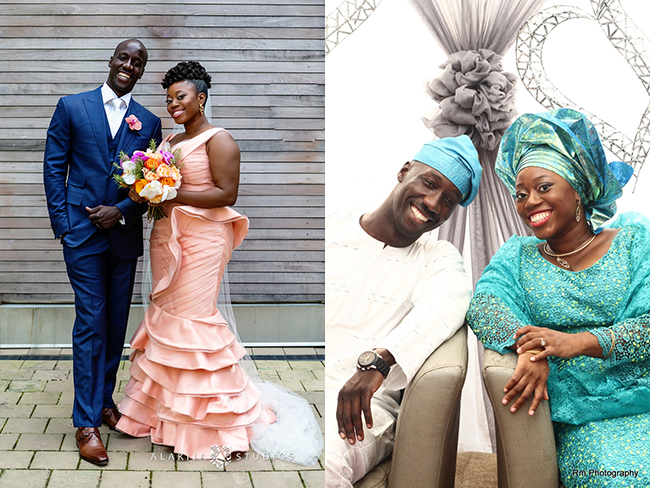 Photos by: Alakija Studios
The Glö-Couple (tell us a fun fact about each of you):
Temi, Event Planner & Chef (my idea of a fun Saturday is snuggled on the sofa reading) &
Segun, Sports Director at the Special Olympics (HIS idea of a fun Saturday is going for a 10mile run…this does not compute!)
Celebration Date & Location:
Traditional Engagement Ceremony
May 25, 2014
Ruby Gardens Event Centre
Lekki, Lagos, Nigeria
Wedding Ceremony and Reception
July  19, 2014
Silver Spring Civic Building
Silver Spring, Maryland. USA
Tell us how you got engaged:
Segun set up a week long treasure hunt where I had to solve puzzles about our life together and then little gumball machine eggs would give me the big clue for the next day. It was totally magical and all the relationship trivia really reminded me of how much we had shared and what an awesome backstory we have!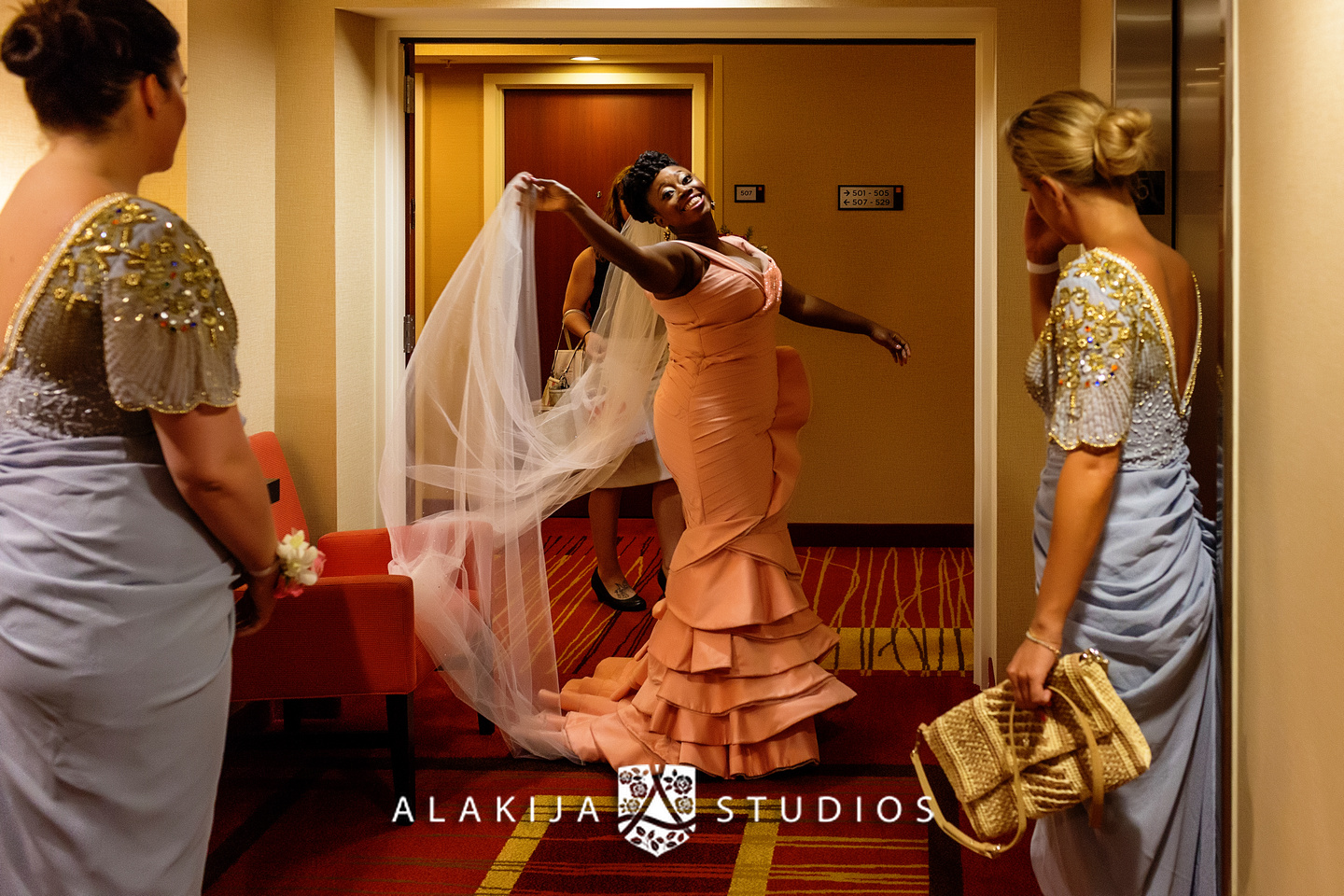 What's the overall 'feeling' you're aiming for with your celebration:
Our celebration(s), both in Nigeria and Maryland, were about fun and tradition. We have a very rich traditional heritage as members of the Yoruba tribe in Nigeria and it was important to us that we followed our Yoruba marriage traditions as well as our Christian marriage rites. Segun is Catholic and I am not so we could not get married in a Catholic Church, instead we had a Catholic Priest administer our Marriage Ceremony.
We wanted to dance and have a good time without too much pomp and circumstance so the challenge was always finding the balance between honouring our heritage but not letting tradition overwhelm the joy. One way to control this was making sure there weren't 'too many cooks' in the planning process. Segun and I always made the decisions ourselves and tried to present a united front to our families. This didn't always go so smoothly but I like to think that we did a pretty good job on staying focused on 'love'.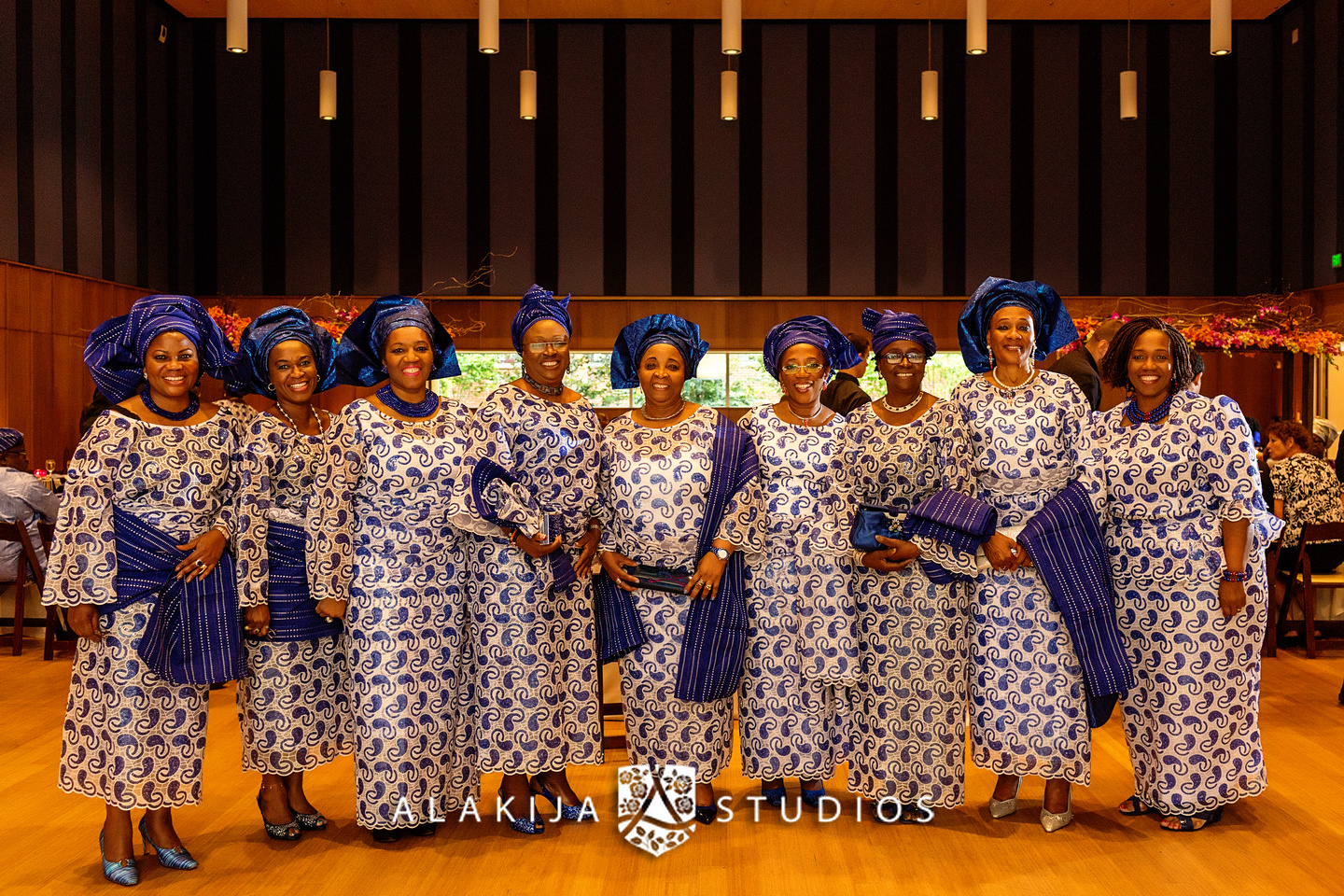 The most important thing to me as a chef was the food and Spilled Milk Catering really went above and beyond my expectations. They blew us away with amazing service and absolutely delicious food. The most important thing for Segun was having a great DJ and he found the perfect one!
I think our main wedding planning mantra was "A wedding is not a marriage" and this is something I think all couples should hold at the forefront of their minds during the process. Focus on what you want your marriage to be like, not just the festivities that precede it. You can't go wrong if you keep the focus on your love and your marriage.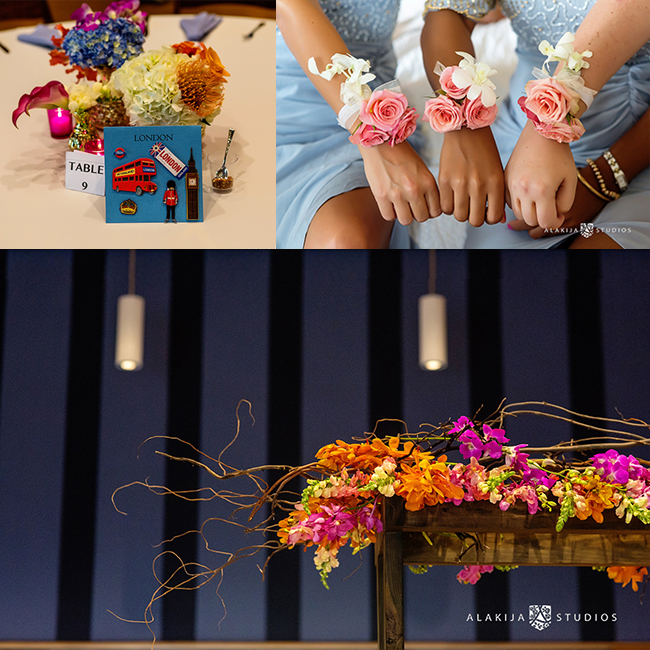 Are you adding any fun twists on tradition:
My parents are divorced but they both mean the world to me so I had them both walk me down the aisle.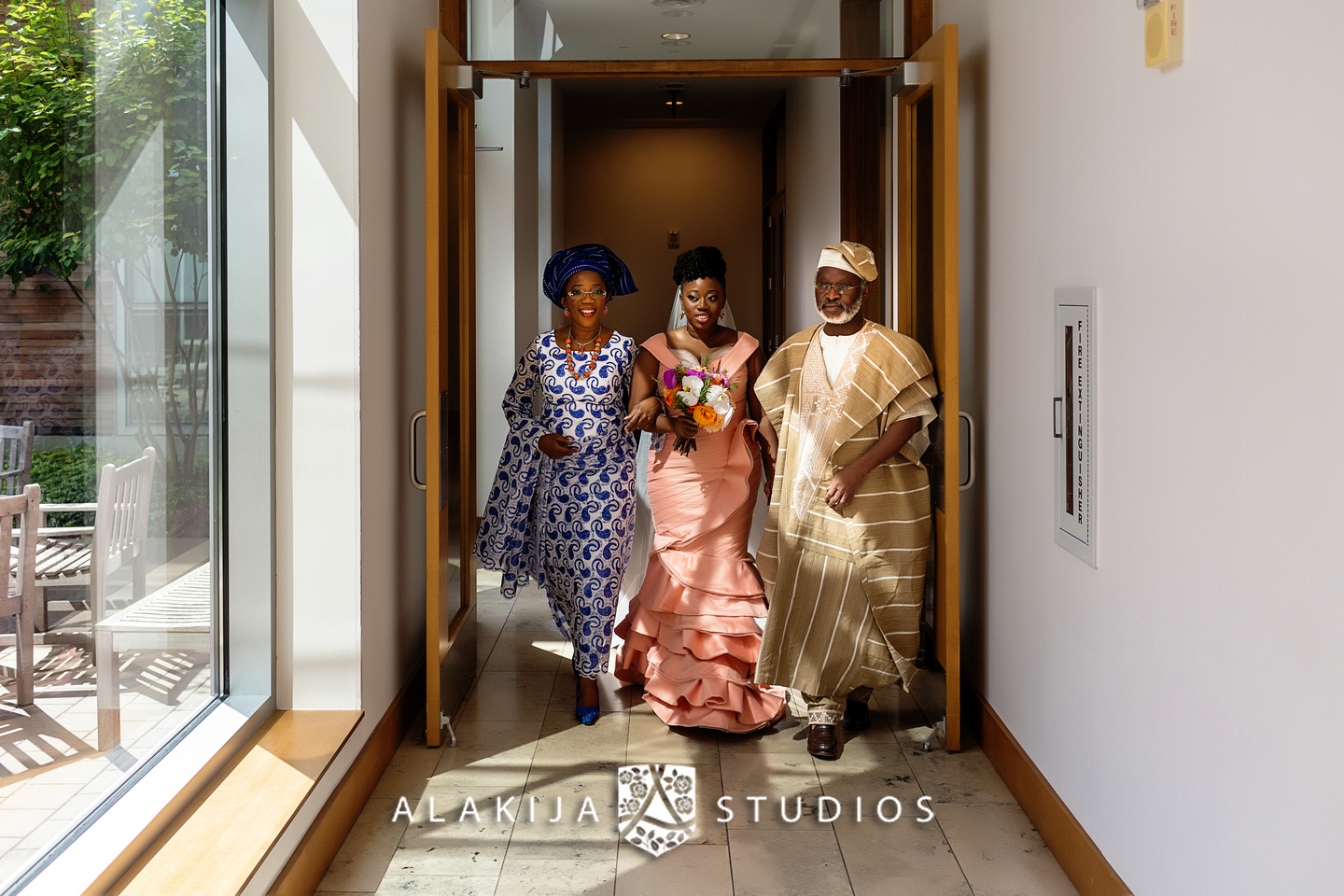 I also broke with tradition by wearing a peach dress. I don't see why my wedding dress colour should be dictated by Queen Victoria! Peach makes me glow and I wanted to look fabulous! We got our wedding cake for $34.99 from Whole Foods (which was right next door!). We put some lovely flowers on top and called it a day. A great cake #WeddingHack that I saw on the A Practical Wedding site.
Segun wanted eight of his closest friends in his wedding party. I only had three bridesmaids. This is the kind of lopsided wedding party that makes some people wince, but we just went with it. Things don't have to be neat and pretty all the time. Sometimes just go with what you want!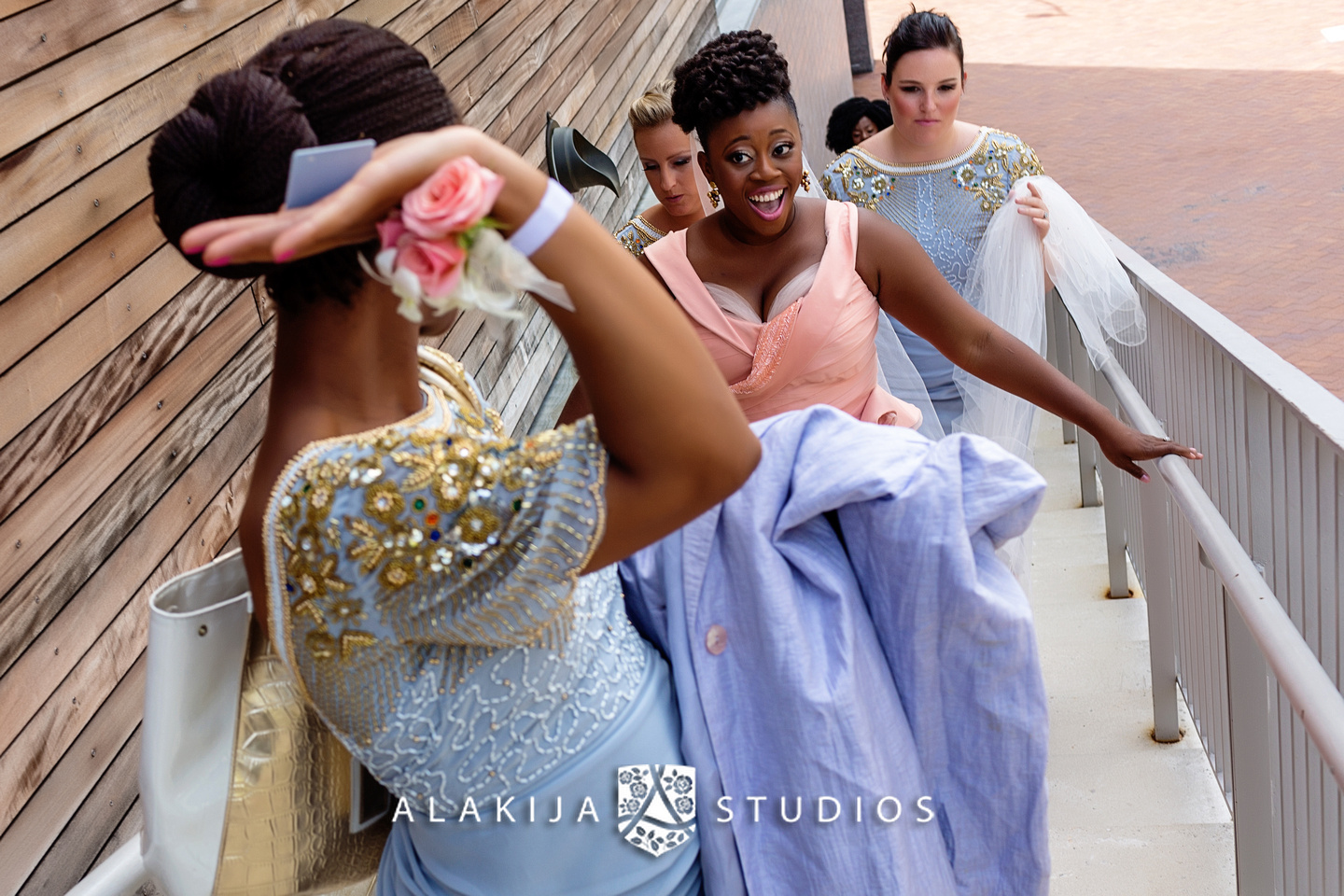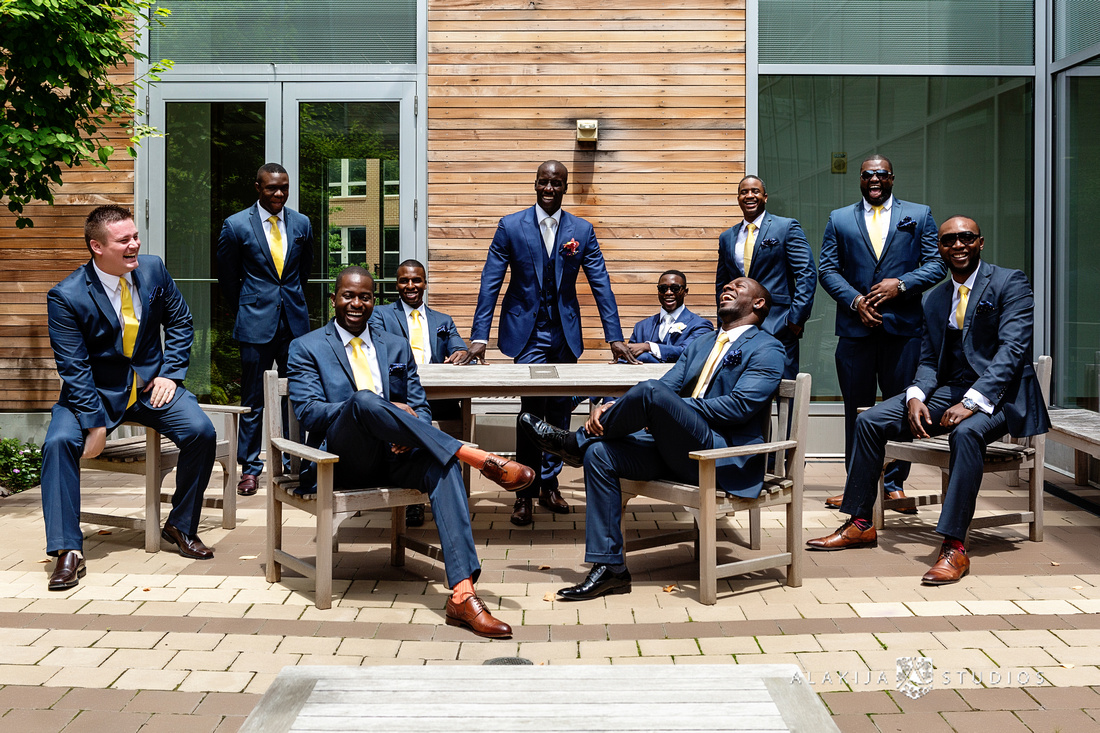 What was the inspiration for your Glövite and Glösite design? If you made them yourself, tell us how you did it.
We picked a simple Tree of Lights design because we both loved the simplicity of it and how it seemed so welcoming. The lights in the tree also reminded us of many parties we had had in my garden at my parents house where our massive Silk Tree always has lights in the boughs and lawn chairs underneath for al fresco dining (and drinking!)
Note: Temi and Segun send paper Save the Dates and Invitations, and then included a digital copy of each on their wedding website. For their invitations, they chose the All Lit Up design from A Printable Press.
Let's show off your Invitations and Glösite Wedding Website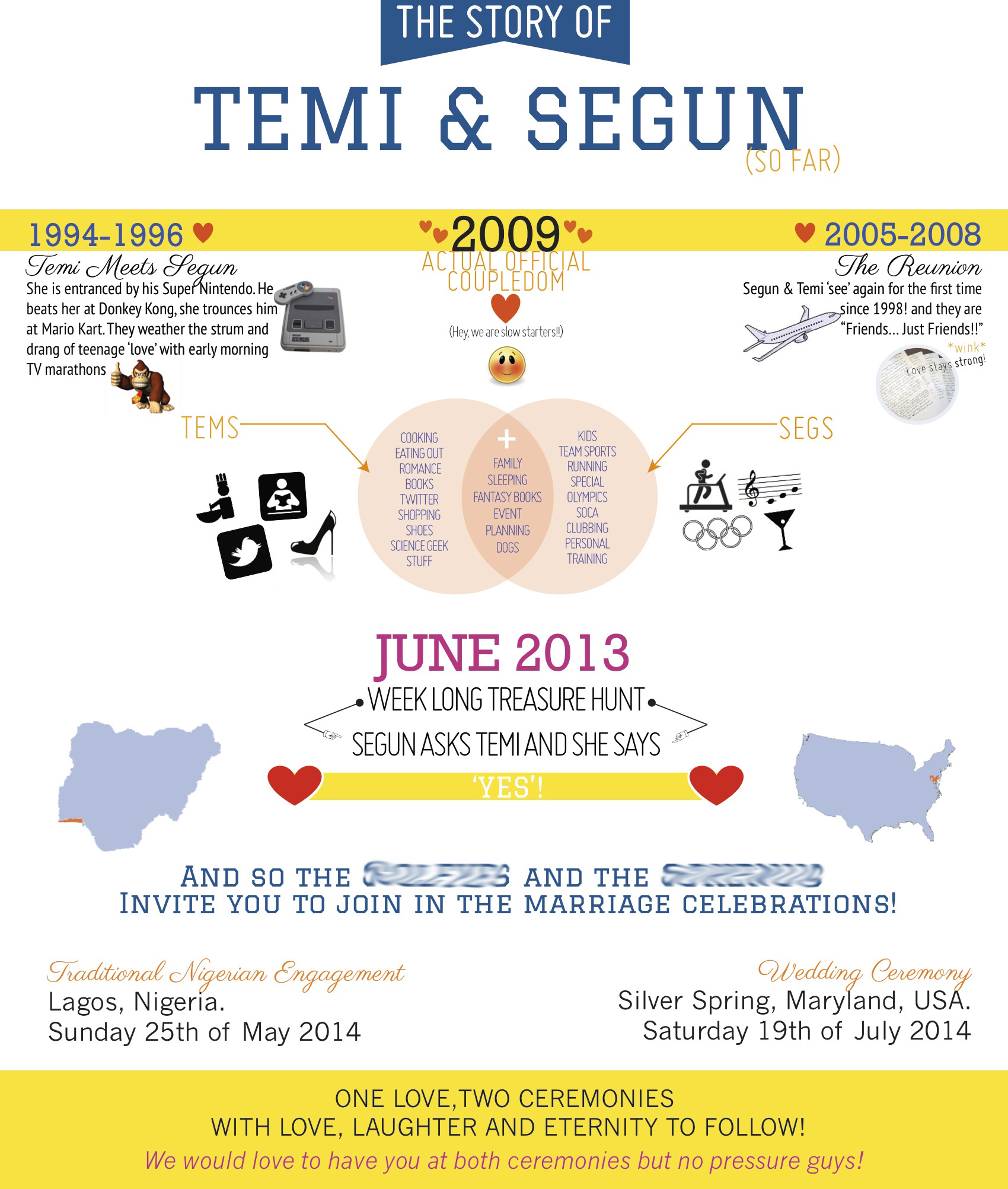 Custom paper Save the Date design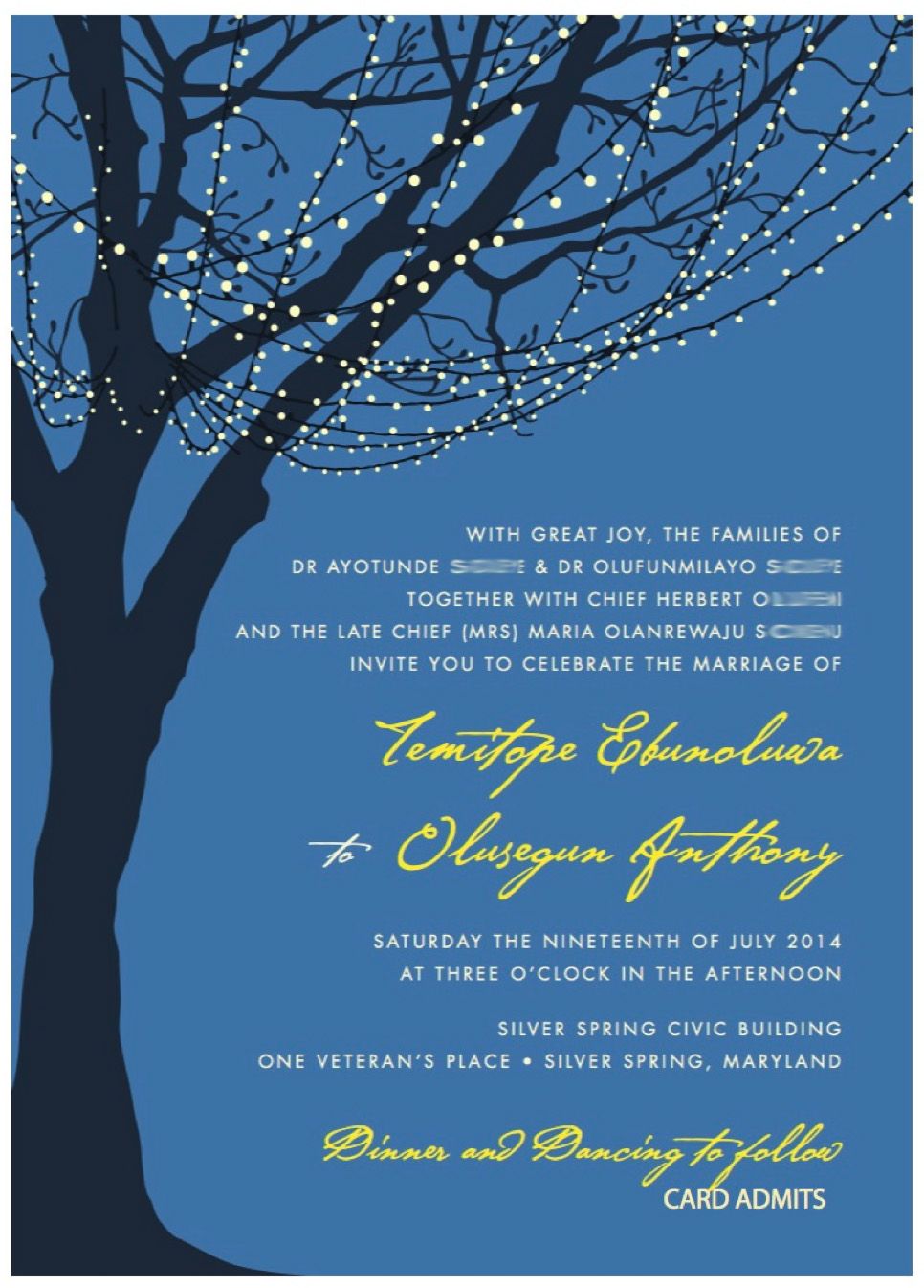 Paper invitation – All Lit Up Design by A Printable Press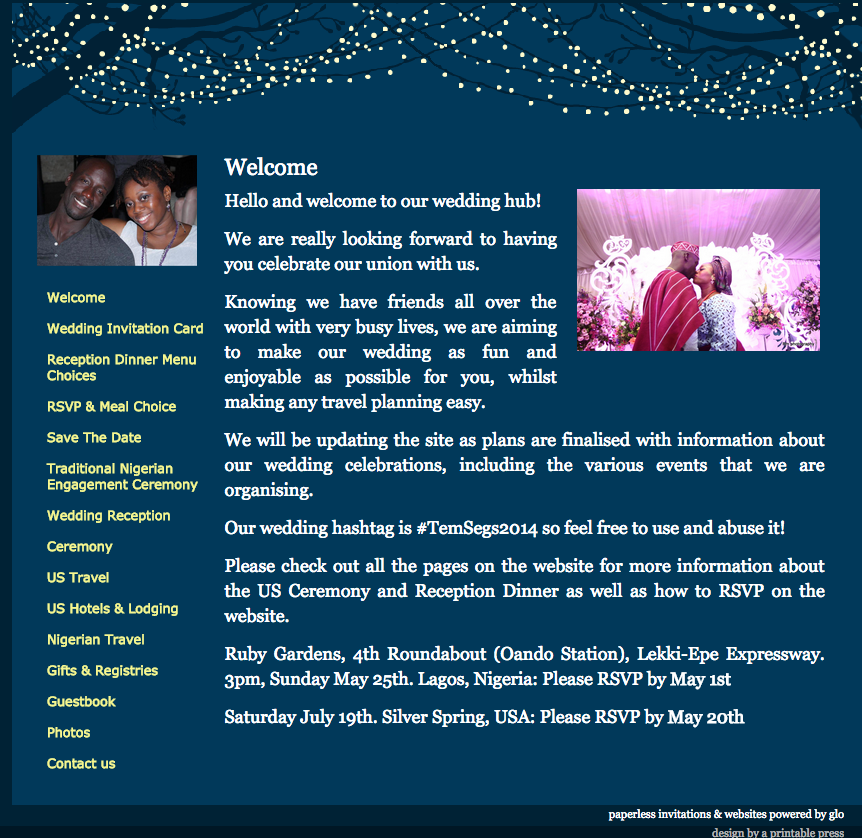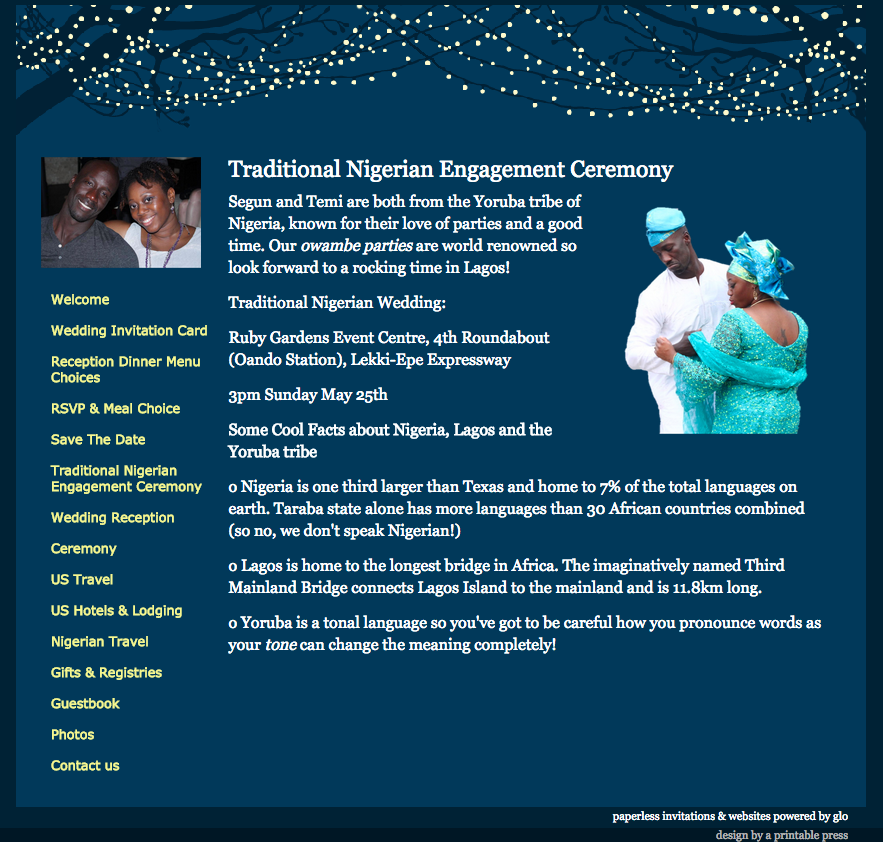 Any good planning tips and tricks for the couples who are just starting to plan?

Number one tip is to pick vendors you are absolutely comfortable with. Sometimes they might not seem like the most high profile but you want people you trust and can form a true rapport with on this special (and stressful) day.
I found the A Practical Wedding site, a haven for planning tips for a budget conscious wedding. It was very important to both Segun and I that we didn't break the bank for our wedding. We had THREE events. Two in Nigeria and one in Maryland. We were all about saving money on the things we weren't terribly bothered by and APW gave loads of tips and wedding hacks.
I also loved how Glosite let me keep everyone's contact info, meal preferences and RSVPs in one place. It was so calming to be able to log on and just see everything collated. Chasing up stragglers for RSVPs was literally as easy as clicking a button. Being able to manually edit guest information was a huge plus too.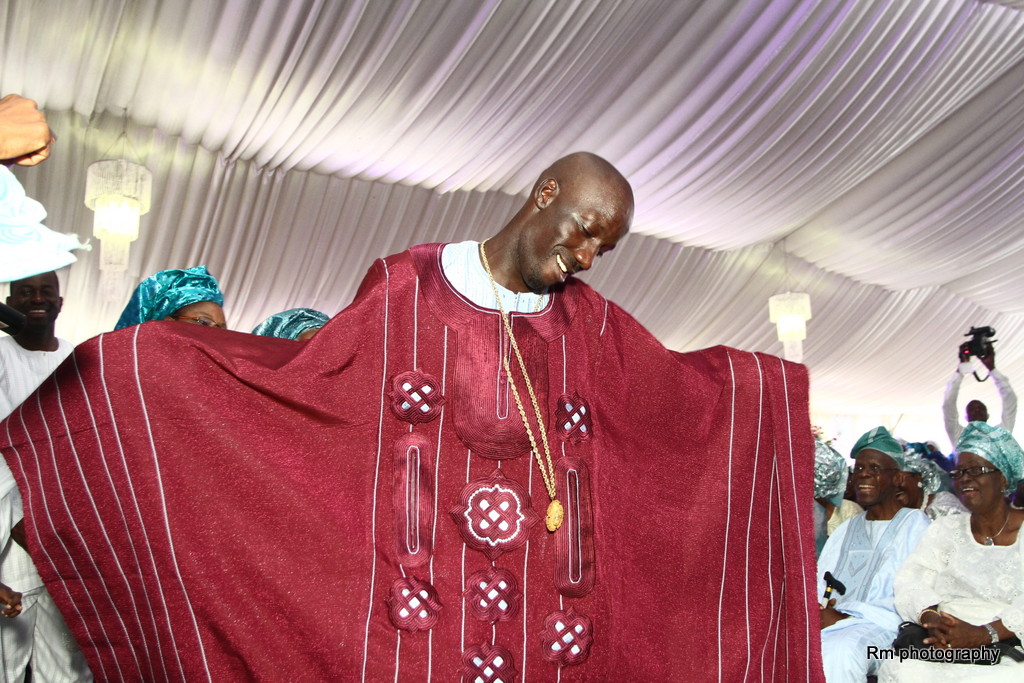 What's the biggest "say what?"  moment or funny story that's happened since you started planning?
A friend of the family told us three days before that he was coming to the wedding with his three cousins and their wives. THREE DAYS BEFORE. I would have lost my mind if Jessica at Spilled Milk Catering hadn't sorted out the seating, changed the table plans and basically been a fairy godmother with the details.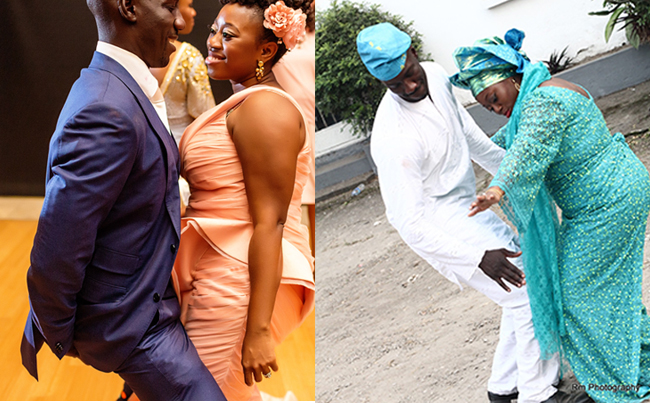 Who are the magical partners who helped bring your celebration to life?
Inspiration and Advice: A Practical Wedding for general advice
Catering: Spilled Milk Catering – Jessica Wolf was my point of contact and she is the warmest, kindest and most generous soul I have ever met. Seriously. She rocks. The food was so amazing that we had dinner with friends last week and almost a year later, they were still raving about the delicious food.
Flowers: Elegance & Simplicity. The owner Katie Martin is an amazingly talented florist who provides eco sustainable event decor options. She made us the most stunning wedding bower and my bouquet was beyond beautiful. She managed to keep all my requests within my budget and I couldn't be more pleased with the decor.
Photography: Alakija Studios is owned by my friend Jide Alakija. We both went to the same university, Imperial College London, and were both headed for science careers that somehow derailed into an event planning and culinary career for me and a photography career for him! I have known him for well over a decade and it was wonderful having a friend shoot our wedding. His work speaks for itself so check it out