All Photos by V Project Photography
The Glö-Couple (tell us a fun fact about each of you):
Jana, Real Estate Investment Analyst, (first thing I do on Sunday morning is check the Target Ad sales) &
Jason, Higher Education Administrator (I love a Nutella and strawberry jam sandwich on Hawaiian bread)
Time of Year & Location:
October
Pomona College: Bridges Auditorium
Claremont, CA, USA
Tell us how you got engaged:
Jason got me to go to the campus of our college alma mater under the false pretense of seeing a play in the area. Little did I know he had planned for a group of students to stage a flash mob to Michael Jackson's Thriller, and he proposed right afterwards.
What's the overall 'feeling' you're aiming for with your celebration:
We were going for a feeling of carefree, simple, elegance. We wanted our guest to be comfortable, happy, and engaged. We wanted our wedding to be lovely without being over the top. So we had a delicious menu, open bar, indoor & outdoor gathering spaces, and music on at all times. The venue choice was key to establishing a feeling of elegance. We chose a venue that didn't need much decor because the architectural elements created the intended atmosphere.
Are you adding any fun twists on tradition:
Instead of doing a unity candle or sand ceremony we planted a fruit tree sapling which we then transferred to our backyard.
What was the inspiration for your Glövite and Glösite design? If you made them yourself, tell us how you did it.
We are very simple people so we stuck with a simple design that matched our wedding colors of navy, burnt orange, and charcoal grey
Let's show off your Glövites and Glösite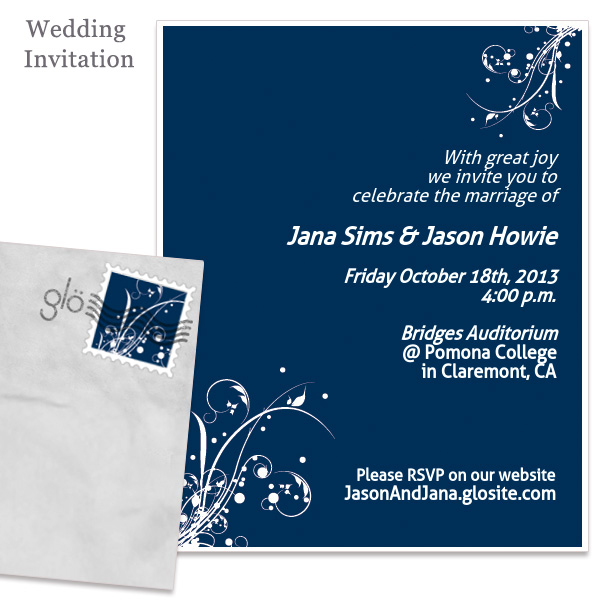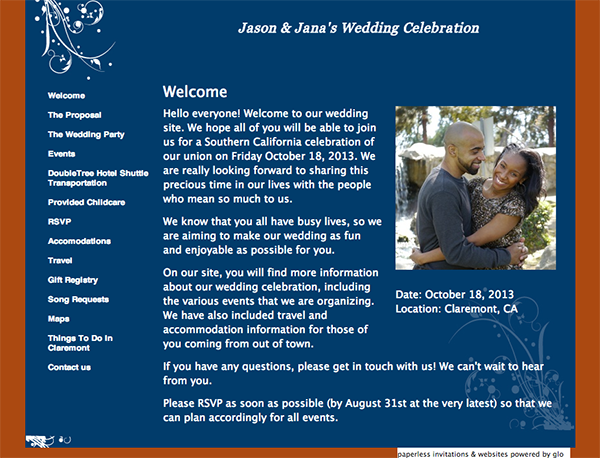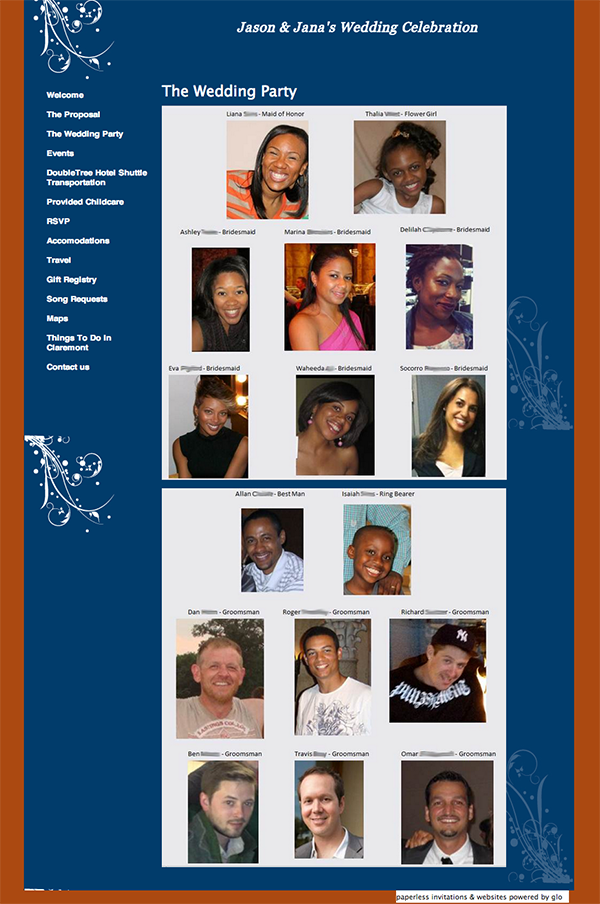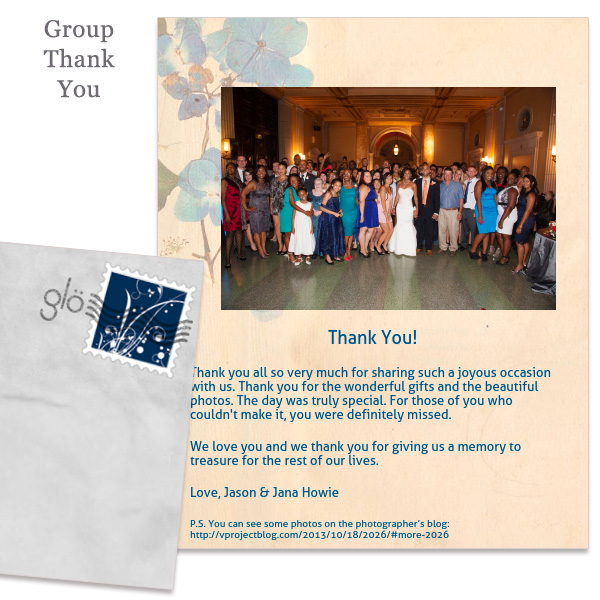 Any good planning tips and tricks for the couples who are just starting to plan?
Packaged deals make life so much easier. I paid one per person fee that covered the venue, food, wait staff, bar and alcohol, furniture rentals, center pieces, cake, etc. Having a package really narrowed things down and made it a lot easier for me to make choices. Also, all the details are taken care of by the event company so I didn't have to worry about little details like cake delivery and rental returns.
What's your favorite memory?
One of my favorite moments was the group dancing and being out on the dance floor with everyone I love doing "The Cupid Shuffle".
What's the biggest "say what?"  moment or funny story that's happened since you started planning?
At my rehearsal dinner, my mother was speaking about how great Jason has been to our family. She listed several occasions in which Jason stepped in when there was a need, and she ended her speech by saying "when Jana needed a husband, Jason was there!" I was a bit thrown off by her choice in words, but I knew her heart was in the right place.
Who are the magical partners who helped bring this celebration to life?
Caterer/Venue/Planning: Gourmet Gourmet Catering
Videographer: Sole Fire Films
Photographer: V Project Photography
Cake Bakery: Some Crust Bakery
DJ: Ignite Entertainment
Centerpieces: Iron Heart Imports