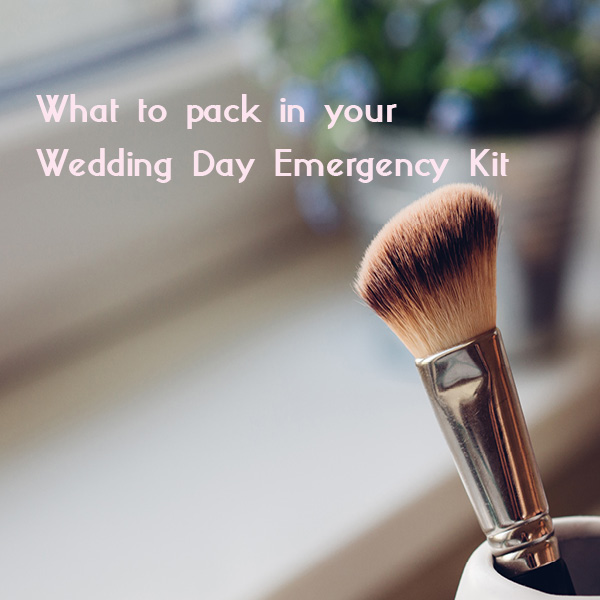 As hard as you've been working to plan your wedding (are those invitations out yet?), there will always be curve balls. The element of surprise can make for memorable comedy and keep the mood light and relaxed. But you know as well as anyone that there are some surprises you simply want to be prepared for.
Here's our round up of must haves for your DIY wedding day emergency kit. This is the perfect project to assign to a bridesmaid or eager family member and will give you (and your wardrobe) a bit of extra security while you enjoy your special day.
Rig it
Did someone's shoe strap break? Is your bridesmaid's clutch losing jewels? Keep a mini tool kit for quick fixes.
Duct tape

Safety pins

Small scissors

Superglue
Stay dressy
Lint roller – For the groom, of course.

Handheld steamer

Sewing kit

Spot remover

Hem tape

Chalk – For last minute smudges and marks on your dress.
Primp
Hairspray

Waterproof mascara

Bobby pins

Concealer

Q-tips

Feminine protection

Pain reliever

Nail file

Tissues

Tweezers

Mirror

Breath mints

Hand lotion

Floss
It's not a bad idea to keep some blood sugar boosters around as well: think granola bars and trail mixes. Make sure you have extra water on hand and are staying hydrated throughout the day to avoid fatigue.
Now you can keep your composure no matter what. The rest is up to fate! Are you planning to include anything else in your wedding day emergency kit? Let us know if we forgot anything in the comments!