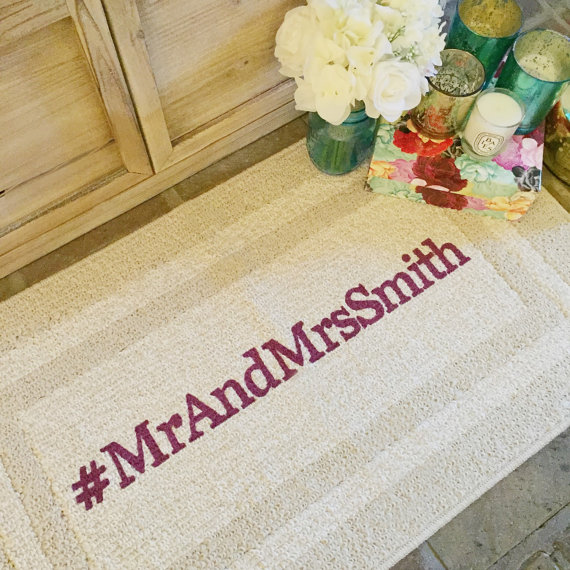 Custom Wedding Hashtag Doormat by BeThereInFive on Etsy
Are you using social media for your wedding? Follow and tag us or use #glowedding. We'd love to see your photos, posts and tweets! (We're sharing our favorites.)
Some things about wedding planning are timeless: the rings, the dress, the invites. And some things are completely in the present. Like the wedding hashtags you keep seeing on social media postings (on Instagram, Twitter, and even Facebook). Much like shopping for a ring together, picking out the perfect wedding hashtag could be both a fun experience and a point of contention.
We're here to help you avoid the latter! First, let's discuss why you want a hashtag to begin with and what they're used for. Hashtags are a way to group together or follow specific conversations. Open up Instagram and look up #DogsOfInstagram, for instance. There, you will find… well, dogs on Instagram. Want to get more specific, yet? Type in #Goldendoodle. Hashtags can be labels for subjects and conversations, or just fun ways to add a footnote to a post or image.
So, why would you want a hashtag for your wedding? To give you a place where you can immediately look at photos and posts about your wedding. Third-party apps, like eventstagram, even gather the hashtagged photos to create a real-time collage from the event!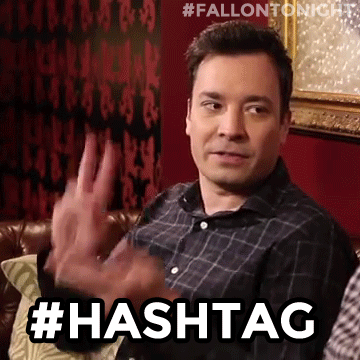 Now back to you and your loved one. The hashtag should be short enough to remember (and type easily). The more letters, the more effort it takes to type it in with every post, and the more chances of spelling errors.. The hashtag should reference the couple while also making sense. Here are four questions to consider before forming a hashtag:
Whose name goes first? (Mackenzie + Derby = #Derbenzie? #Mackderby?)
Do you make a word play on your newly shared last name? (#MeetTheSmiths, #HappilyEverSoffer)
Should the date or place be referenced? (#SmithsInParadise, #SmithWedding2015)
Do you have cute nicknames you could combine?
Is someone else using your hashtag? (Search Instagram to see if the hashtag you want to use pops up.)
Picked a wedding hashtag? Great! If you couldn't think of one, head to the Wedding Hashtag Generator and see what they come up with!
Once you've selected the right hashtag for your wedding, you'll want to make sure all of your guests know about it start using it. The best way to do that is to use it yourself when you're posting about wedding plans. Enlist your bridal party to use and share your hashtag, too! You can add it to your wedding invitations, put it in your wedding information packets, make sure it's on your wedding website and even make signs and place them around the wedding venue. If you decide to have a sign made, have fun with it! If you don't know somebody who can create the sign for you, there are plenty of places online (like Etsy) where you can have one made.
Want to do more? Here are some tips for how to add an instagram hashtag to your wedding website.