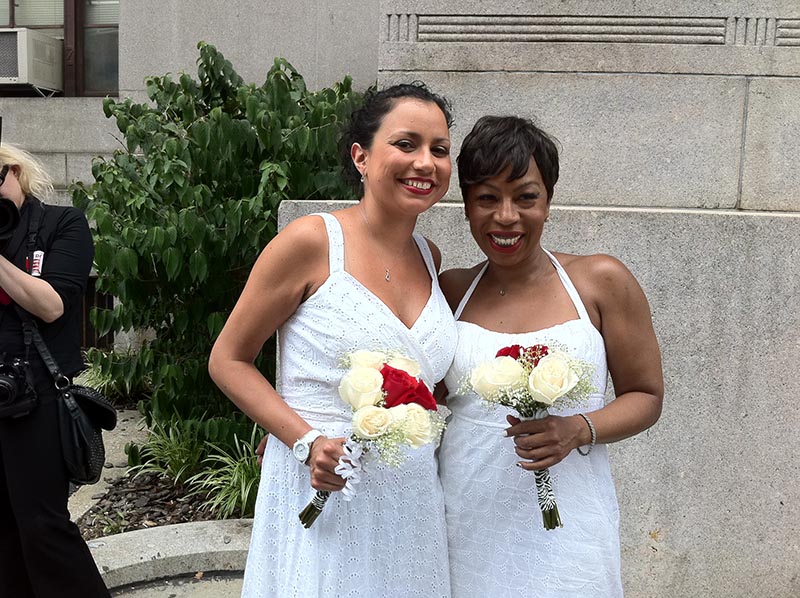 Photo by Lauren Colchamiro
Are you feeling a little differently about taking your spouse's name now that you aren't scribbling it on your eighth grade notebook? You're not alone. With all the headway modern society has made in marriage equality and feminism, the tradition of a name change after marriage has undergone some necessary updates as well. While many men and women have decided that a name change is perfect for them, there is a full spectrum of modern options to consider that may best suit your unique situation. Here is our modern guide to changing (or not changing) your name after your wedding.
For the majority of modern couples, the idea of taking a spouse's last name is a romantic tradition that they are happy to take part in. There are in-between options (for same sex couples, as well) including hyphenation á la Beyoncé Knowles-Carter or a second last name like Angelina Jolie Pitt.
The New York Times recently reported that the number of women who keep their maiden name is on the rise and that many women of these women are not changing their names simply for the sake of convenience. They don't want to go through the legal hassle, they want their careers to stay the same, and they want to make sure people can still find them on social media.
Some women feel, as they did in the 70s, that changing their names presents an issue of equality. Even with hyphenation, women aren't necessarily comfortable with taking on a man's identity while he is not taking on hers. Emily LaFave Olson changed back to her maiden name two years after taking her husband's name at their wedding. As she shared last month in Huffington Post, her modern, happy medium with her husband involved each of them changing their middle names to the other's last name (he became Rob Olson LaFave and she became Emily LaFave Olson).
Since the Supreme Court's decision to honor marriage equality in the US has made a whole lot of people really happy, it brings a new question of tradition to light: is name change a thing for same sex couples? As Vogue recently reported, many same sex couples decide not to change their names. If they do decide to do so, it is often for the sake of keeping a united family name between children and parents. Couples often simply choose the last name that they like best between their names. Some choose to duke it out the old fashioned way with a bet or even a soccer game.
If your romance is cross cultural, there may be some more aspects of tradition to consider when considering a name change. For example, if an American woman marries a Korean man, it's important that she understand what her in laws expect or what traditions prevail in Korea. She might not want a Korean name as a non-Korean, or she may love the idea of taking her husband's name. Offbeat Bride has more insight for international couples here.
Overall, the biggest question in regard to be mindful of with legal name change seems to be which name should go to your children. Above all, don't stress. This decision is all about what feels right to you and your partner.