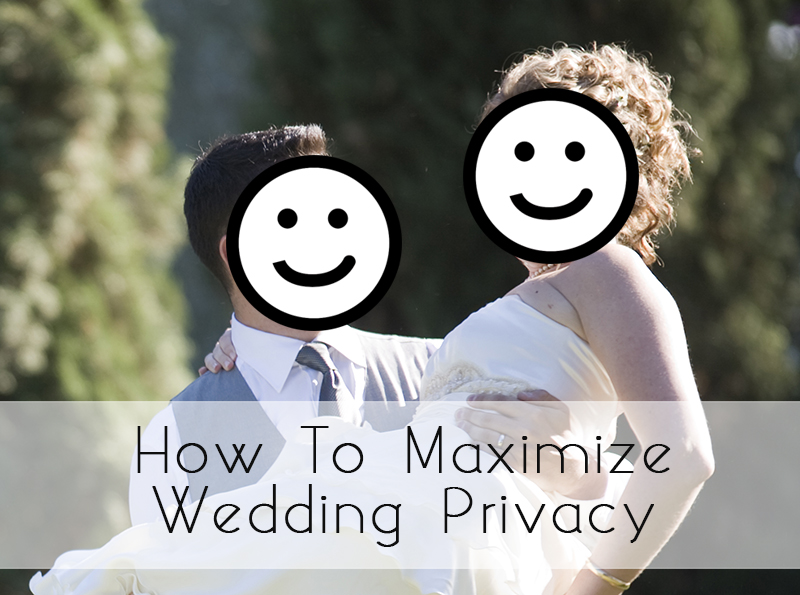 it's great to use technology as a hack for saving time and money (like inviting guests via email wedding invitations, sharing information with a wedding website, collecting RSVPs online, or crowdsourcing your wedding photos with a hashtag.) But technology can also present a host of privacy issues for both you and your guests.
If privacy is a concern for you, here's are some tips on how to protect yourself from all kinds of mischief-makers and wedding crashers to keep your wedding details and your gust list data nice and private.
1) Choose a Wedding Website service with tight privacy controls
You'll want to make sure that only the people on your guest list have access to any private information on your wedding website. The most secure sites give the option to have all or some of your pages behind a guest login. This way, only guests who are on the guest list can access your pages. For an added layer of security, you'll want to password protct your pages. At Glosite, we allow guests to choose their own password – which means they are less likely to forget it and that it is more secure than everyone having the same password to share.
2) Choose a more generic wedding website URL
Stalkers can be clever, so make their life harder by choosing a non-obvious wedding website URL. Choose a more generic website URL rather than one that contains your names, venue name, or specific wedding date. Some great option are a URL that includes a loose description of the location (e.g., "Beach" or "Mountain"), your initials instead of full names, or your theme. For instance "beachlovebirds2015.glosite.com"  or "LmarriesM.glosite.com"
3) Keep your website out of online searches
It's easy to find almost any type of information online these days, let's not make it easy for those who aren't on your guest list to see your wedding details. If privacy is key for you, it's important to choose a wedding website provider that will allow you to prevent your website and all of its content from being searchable by Google, Bing and other online search engines. This will add an extra layer of protection on top of having your content behind a login and password.
4) Ask guests to be careful about social media and photos
Many of your guests will want to share their join and excitement online. If this makes your nervous, then don't be shy about asking guests not to post information or photos on their various social media accounts. If you are crowdsourcing your photos, use a third party service that has build in password or privacy settings, such as  a service that requires viewers/participants to be approved, rather than a hashtag.
5) Ask your photographer to respect your privacy
Your wedding photographer will be a master of their craft and your photos will be beautiful, so it's only natural that your photographer might want to show them off online. If this is not something you are comfortable with, be specific with your photographer about your wishes. Ask your photographer not to submit your wedding photos to blogs or publications – or to only share photos that do not feature your faces, guests' faces or any identifying details you wouldn't want the general public to know about.
Do you have other tips about how to maintain privacy on your wedding day? We'd love to hear your ideas in the comments!